ISU College of Business shares impact on small business in Idaho with Sen. Jim Risch
October 14, 2020
Kelsey West, Business Marketing Director
POCATELLO – U.S. Sen. Jim Risch made a stop at the Idaho State University College of Business Tuesday, Oct. 13, as part of a full day visiting Pocatello.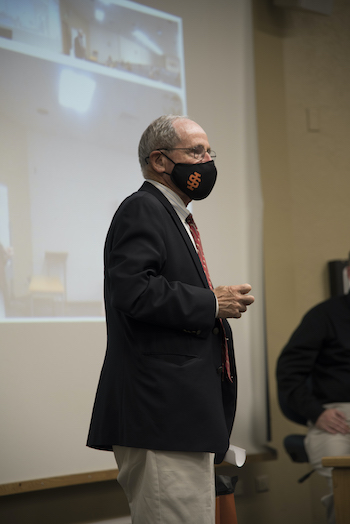 Risch's visit to the College focused around his work on the Small Business & Entrepreneurship Committee and with the Paycheck Protection Program (PPP) which has had a major impact on clients working with the College's Center for Entrepreneurship and Economic Development (CEED) service providers. During his visit, the College of Business's CEED staff, faculty and students shared their experiences with these programs and its impact on the work they are doing.
Risch noted that the PPP was designed to keep small businesses intact, "Small business is the engine that runs this country," said Risch.
The Idaho State College of Business has had a major impact on small businesses in the area through its CEED programs, but especially over the last seven months.
"We have assisted over 1,100 businesses between our Idaho Falls and Pocatello offices," said Ann Swanson, Region V Director of the Small Business Development Center (SBDC) housed in the College.
Swanson was among several other Idaho State presenters and clients on Tuesday sharing their contributions to economic development in Idaho. Others to present their work to Sen. Risch were Jeff Street, the director of the CEED program; Dan Cravens, director of Bengal Solutions; John Ney, director of professional development, and clients Bamidele Omotowa of Pearhill Technology and Kim Reeves and Jeff Dalton of Legacy, and Gene Hoge, representative of Pocatello's Northgate project.
Swanson and Region VI director, David Noack noted that the SBDC has helped secure $3.75 million in PPP loans for small businesses and $4.2 million from the disaster loan program as well. As part of their consulting efforts during the pandemic, the team has also released a number of video webinars receiving more than 2,000 views.
"These webinars have focused on anything from funding options to dealing with employee-related COVID issues," Swanson said.
In addition, the SBDC team is assisting one of their clients, Idaho Hydratech, in adapting its product for use in removing viruses from the air as part of the fight against the spread of COVID-19. Swanson and the Region VI SBDC team serve 16 Southeast Idaho counties providing no-cost business coaching.
CEED program director Street shared his work with entrepreneurial-minded students at the University.
"Our flagship event, the U.S. Bank Pitch-Off, has included teams from every college and division on campus over the last several years," Street said.
In addition, Street said that in this competition typically between 20 - 24 senior-level student teams will develop and pitch their product or service ideas to area business professionals and professors for a chance to win cash prizes.
"We've had over 200 student pitched ideas at the event," Street said. "And at least six of those have gone on to launch their businesses selling products in stores, contracting with major national companies and developing their websites."
Street also serves as an advisor for students entering the Idaho Entrepreneur Challenge (IEC) in Boise.
"They typically receive about 100 - 120 applications from all over the state for entry into the IEC, and we have had at least four to six teams participate from Idaho State every year," said Street, noting that the teams have consistently placed first or second in the competition every year, winning anywhere from $2,000 to $13,000 toward their ideas.
Street has been working particularly hard with one of last year's finalist teams to patent, manufacture and certify their product, H2 Therapeutics. The students' company focuses on hydrotherapy primarily for Parkinson's disease patients. Street has helped them patent their product, procure a manufacturing contract and start the certification process with the FDA along with starting clinical research trials.
"I'm confident this product will go to market," Street said.
Legacy, a Silicon Valley-born company now based in Boise has also been working closely with graduate students in the College of Business's Bengal Solutions program. Legacy is a temperature, pressure, flow, and cooling technology manufacturer. According to Kim Reeves, a co-founder of Legacy, the company has made a 'humanitarian pivot' in their product's use, now focusing on developing a different class of medical equipment to help stifle the spread of COVID-19 in hospitals and minimize lung damage for patients on ventilators.
"Bengal Solutions has helped us secure a grant to start making prototypes quicker then we could have ever imagined," Reeves said. "We couldn't have done it without Bengal Solutions and others."
"The Idaho State College of Business was thrilled to share with Sen. Risch all of the great things our faculty, staff and students are doing to help entrepreneurs and small businesses grow and create jobs throughout Idaho," said Shane Hunt, College of Business dean.
Photo information: Sen. Risch speaking at the ISU College of Business on Oct. 13.
---
Categories: