ISU College of Business dean announces Sales Certificate Program and sales competition at first Professional Selling Series event
September 25, 2020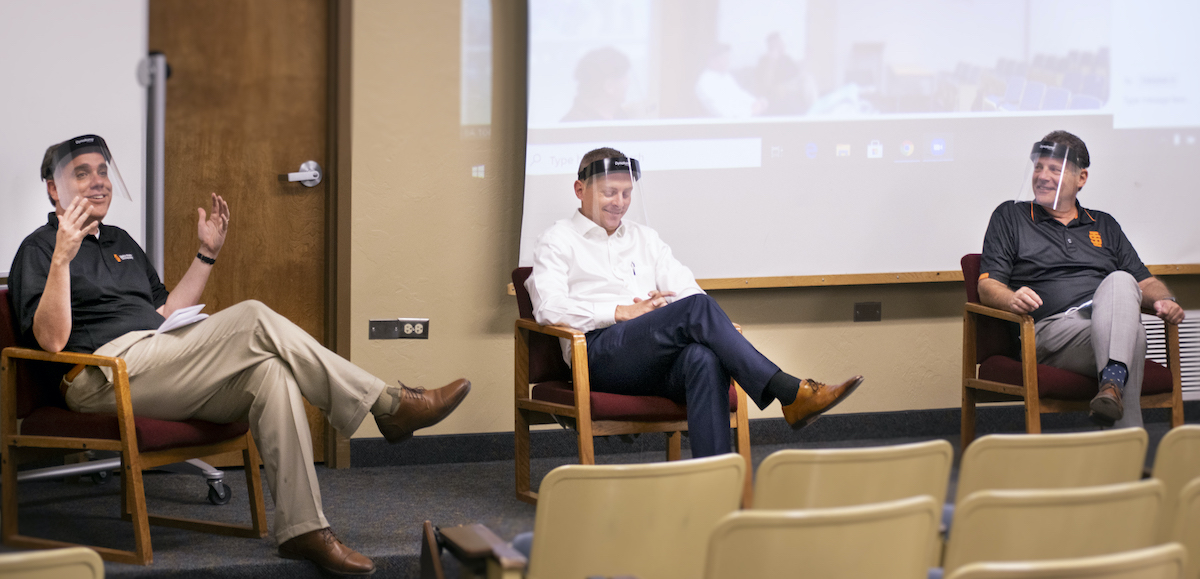 POCATELLO – Late in September the Idaho State University College of Business launched the first Professional Selling Series event in which three executives discussed their experiences and personal perceptions of a career in sales.
Guests included College of Business alumni Joel Phillips, partner at Sanctuary Wealth; Michael Watson, chief marketing officer of Idaho Central Credit Union; and Don Zebe, a partner and broker at Colliers International. The event was the first in a series which will feature discussions on sales in the areas of health care, pharmaceuticals, agriculture and sports.
In addition to the new speaker events, College of Business dean, Shane Hunt announced the launch of a sales certificate program and the Bengal Sales Challenge.
"Sales is at the heart of modern business," Hunt said. "We are thrilled to provide our new Professional Sales Certificate to students from every major on campus. Understanding and using the aspects of sales in order to improve for-profit business, not-for-profit organizations and students' career prospects is a critical educational activity that will benefit students for years to come."
The certificate will require just nine credit hours of coursework and will be available starting in 2021. The College of Business is the first school in the state of Idaho to offer a professional sales certificate.
The College will also launch the Inaugural Bengal Sales Challenge in April.
"This competition is open to every Idaho State student," said Hunt. "The challenge will provide students the opportunity to demonstrate their selling skills, get individual feedback from industry experts and compete for thousands of dollars in scholarships."
Hunt said that with these new programs, he hopes to broaden the career opportunities of students both inside and outside of the business major.
"Career opportunities in sales extend to virtually every college major and industry throughout the world," said Hunt noting that as a salesperson, you are expected to know and understand the field for which you are selling the product or service, which is why sales people for pharmaceutical companies, and health care and engineering equipment and services often have a background in those areas."
Sales series speaker Joel Phillips noted the importance of sales for every career during the event.
"Everybody is in sales," Phillips said. "All employees provide the customer experience that both maintains and attracts new customers."
The new Professional Sales Certificate and the Bengal Sales Challenge will provide students the opportunity to develop those skills and transfer them to their own field. Hunt also notes that the Professional Selling Series speaker event will help provide a discussion of opportunities related to sales in a variety of fields drawing from the expertise and personal experiences of Idaho State alumni.
During the new event, the group of experts discussed some of the misconceptions of sales.
"As a college student, I would have thought of a salesperson as being pushy," said Michael Watson, ICCU Chief Marketing Officer. "But sales is really about building relationships and taking care of an individual one-on-one."
Watson explained that sales is an opportunity to help others.
"To be in sales, you have to believe in your product or service, you have to believe that what you're selling is going to change lives," he said.
---
Categories: