Idaho State virtual Winter Commencement honors 1,254 fall and summer graduates
December 12, 2020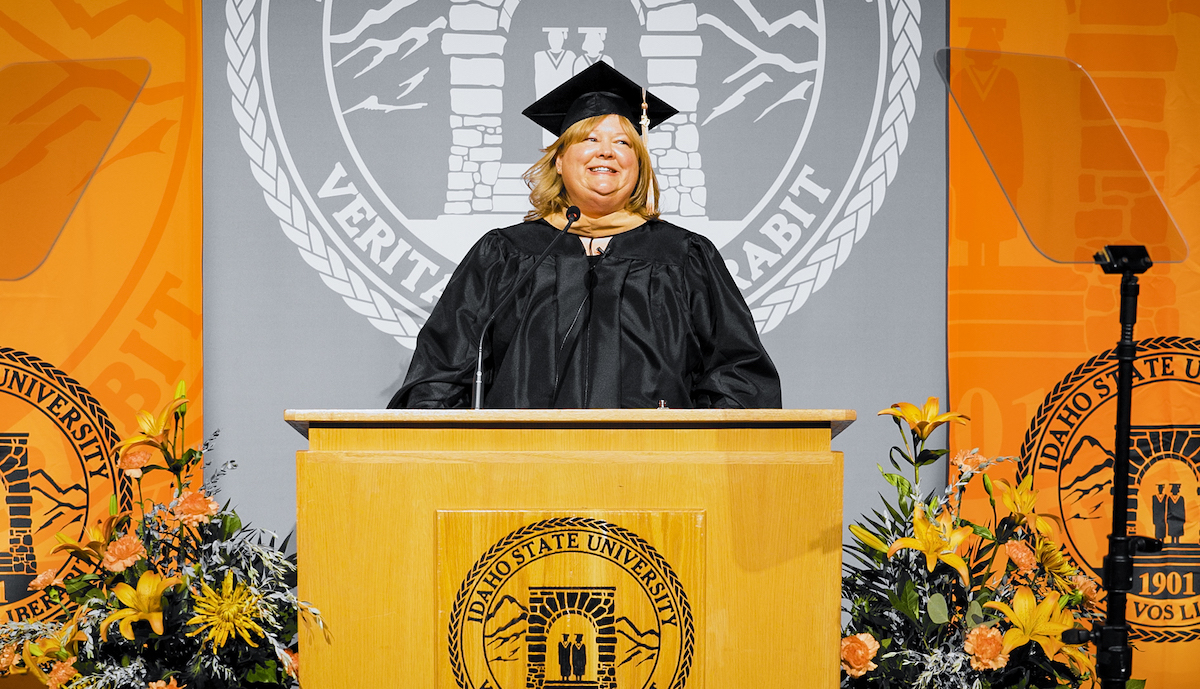 'There is no masking the power of the winter class of 2020'
POCATELLO – Idaho State University Winter Commencement Ceremonies Dec. 12 featured pomp and circumstance, college processionals, the Star-Spangled Banner, inspirational speeches and the conferring of degrees and certificates to 1,254 fall and summer graduates.
However, the whole ceremony was held virtually online. Graduates were encouraged to celebrate at home using items like confetti poppers that were sent to each graduate in custom celebration boxes. For those who haven't seen the ceremony or want to see it again, visit isu.edu/commencement.
The ceremony honored 686 fall-winter and 568 summer graduates, and was held virtually due to COVID-19.
In his commencement address, Idaho State President Kevin Satterlee acknowledged the challenges that this year's graduates have faced.
"You did not get to this point easily," Satterlee said. "You have struggled. You, maybe more than any other class in recent memory, those who are part of the class of 2020, have faced adversity in many ways. I know this is not the graduation day you dreamed of many months or many years ago, but I am proud of the tenacity and the Bengal grit you have shown in the face of these challenges and today we celebrate you."
Satterlee encouraged graduates to use their education for their own betterment and for the betterment of those around them, too.
"By bettering your life, you also have the opportunity to make the world a better place and you do that by using what you learned here," Satterlee said. "When you go out into your community, be the person who society needs, be the change that we need. Use this education not to just make a living, but to make the community you live in better than it is now."
Student speaker Susan Brooks, a nontraditional student who graduated from the College of Business, talked about the challenges she faced earning her degree and the value pursuing an education at Idaho State has added to her and other graduates' lives. She also thanked those that have helped students along the way.
"It is my core belief that I am well educated, well prepared for a career in business," Brooks said. "Like other Bengals here today, Idaho State University has helped shape me into the person that I am. And I expect that my fellow graduates from all disciplines have journeys of their own that also culminate in thanksgiving for the many opportunities to grow."
"So, from the bottom of our hearts," she continued, "to the ISU faculty and staff and to all the family and friends who have stood by our sides through this incredible journey, thank you for affording us the opportunity to be strengthened, stretched and transformed."
Brooks also had one of the best quips of the day, ending her speech by saying, "thank you Idaho State University for our brighter futures. And look out world, there is no masking the power of the winter class of 2020. We are about to be unleashed."
Assistant Clinical Professor Jerry Leffler, chair of the Faculty Senate, placed the faculty mace. The institutional reader was Barbara Wood Roberts, Graduate School associate director of academic engagement.
Graduates and guests were encouraged to share their graduation memories with the Bengal community using social media hashtags #ISUGRAD and #ISUCLASS2020.
Musical selections "The Star-Spangled Banner" and "Alma Mater Hymn" were performed by Micah Kenney.
---
Categories: