Idaho State University leader brings experience, vigor to new faculty position
November 10, 2020

Students in the Department of Nutrition and Dietetics will soon have a new professor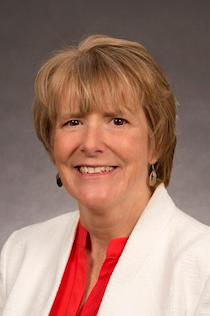 MERIDIAN - The Department of Nutrition and Dietetics at Idaho State University will soon welcome home a familiar face. Patricia Z. Marincic has served as associate vice president for the Division of Health Sciences at Idaho State University and director of the ISU Meridian campus since 2017. She previously served ISU as program director of nutrition and dietetics from 1988-1998 and most recently on the faculty at Auburn University prior to her return to ISU in 2017. She will return to the Department of Nutrition and Dietetics as a tenured professor in January 2021.
Marincic has been nationally recognized within the Academy of Nutrition and Dietetics with awards of excellence in teaching and research. She speaks nationally as an advocate for public policy initiatives to increase access to nutrition services for both insured and underrepresented populations. She brings a wealth of professional experience across the areas or teaching, research, and service and an exemplary record of student engagement.
Throughout her first decade at ISU, nutrition and dietetics students benefited from the clinical practice experience she brought to the classroom, including case-based education and service learning in the community. She established the first dietetic internship program in Idaho, allowing graduates to complete all requirements, in state, to become a registered dietitian nutritionist. This required developing numerous clinical partnerships that are still in place today.
Recognizing early the benefits of interdisciplinary training and practice, Marincic developed nutrition curricula across the health professions including nursing, dental hygiene, physician assistant studies and family medicine. She also participated in the development of the Master of Public Health program, adding a nutrition track providing a unique opportunity for dietetics students to obtain a graduate degree and increase the breadth of their education. Today, ISU offers a new Master of Science Degree in nutrition that benefits from Marincic's experience in graduate education.
Upon returning to ISU in 2017, Marincic assumed leadership of the Meridian campus. Her efforts focused on the integration of program expansion and infrastructure buildout of the campus, increasing ISU's footprint in the Treasure Valley. Programs that have been added or expanded during Marincic's tenure include clinical psychopharmacology, clinical rehabilitation counseling, health informatics, homeland security and emergency management, physical therapy, nutrition and accelerated nursing.
Growth of these programs required substantial construction and expansion of physical spaces within the Sam and Aline Skaggs Health Science Center to include new classrooms, physical and occupational therapy training laboratories, nursing skills labs, a health sciences library, student gathering space, new anatomy laboratory and a 20,000-square-foot renovation of the ISU Meridian clinics. Two land purchases supported much needed student parking and will accommodate future growth of ISU for years to come.
Marincic has been an integral member of the Kasiska Division of Health Science's leadership team. She has participated in regional initiatives to increase clinical training capacity; championed interprofessional education for ISU students in collaboration with the Idaho College of Osteopathic Medicine; supported the work of ISU's collaborative post-doctoral fellowship with St. Luke's Health System, served on the Saint Alphonsus Mission Committee, and numerous other agencies to foster ISU outreach in the Treasure Valley and beyond.
Additionally, Marincic helped to refine the mission of the Idaho Center for Health Research, "fostering collaborative interprofessional research to promote wellness and improve health outcomes." With intentional focus on increasing synergies across ISU's research enterprise, the center has grown to a membership of more than 50 faculty representing six colleges and ISU campuses in Pocatello, Meridian and Anchorage, Alaska, where ISU delivers an affiliate pharmacy program.
"I am most proud of our Meridian family and feel privileged to have served with such an experienced group of faculty, clinicians, and researchers," Marincic said.
She values the dedication of the student services staff and commitment of the Meridian operations team, most notably throughout the COVID-19 pandemic.
"I am also deeply grateful for the ongoing relationships with our regional partners across the health care systems and the tremendous support that ISU health science programs continue to receive from these organizations," she said. "These partnerships are essential to the training of the next generation of health professionals and ultimately to the health and wellbeing of the population of Idaho."
In her new role, Marincic is looking forward to focusing her time on her original passions: nutrition and the education of dietitians and nutritionists. The Department of Nutrition and Dietetics has seen tremendous growth in recent years, including a new department chair; the development of a Master of Science Degree in nutrition with three tracks: public health, marketing and management; and a new state-of-the-art experimental food science laboratory and culinary medicine center. Marincic also looks forward to delving back into her own research exploring the efficacy of nutrition interventions for the treatment and prevention of diabetes and other chronic disease and state and national advocacy within the academy.
"We are pleased that Patty will remain with the Kasiska Division of Health Sciences and appreciate her years of impactful service for the KDHS and ISU as a whole," said Rex Force, senior vice provost and vice president for health sciences. "Her contributions, innovation and support of the student experience, faculty development and research initiatives will have lasting benefit."
The Meridian Health Science Center administrative structure will change with Marincic's departure to include a new executive director who will focus on operational activities and community relations. The changes are prompted by ISU President Kevin Satterlee's vision of a reorganized Kasiska Division of Health Sciences that maintains excellent academic programming, innovative research and impactful service while reducing administrative overhead and addressing ISU's budgetary realities. The search for a new campus executive director will begin soon, with the new hire starting in 2021.
---
Categories: