Idaho State names Ronneburg interim dean of College of Technology
December 2, 2020

POCATELLO – Idaho State University has named Debra Ronneburg interim dean of the College of Technology. Ronneburg will assume the interim position in January after Scott Rasmussen retires from the University.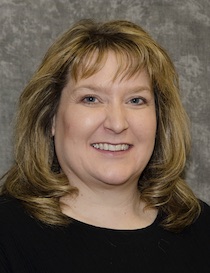 Ronneburg was named associate dean of the College of Technology in 2012, and prior to that, she was the director of Student Services in the College of Technology for 12 years. In total, Ronneburg has worked at Idaho State for more than 24 years, with a majority of her career in student services.
"Debbie's extraordinary service as associate dean for the last eight years has prepared her well to step into this role as interim dean," Rasmussen said. "Her many skills, abilities, and pleasant personality make her an outstanding choice to continue to move the college forward until a new dean is selected."
Ronneburg is a past president of the Idaho Association of Registrars and Admissions Officers Association and has served on various statewide committees, including Idaho's Future II Committee to discuss statewide strategies to prevent summer melt among Idaho's high school graduates. She has served on the University's NWCCU Standards and Core Theme Subcommittees for accreditation self-studies and reports and is a member of the University Assessment Review Committee. Ronneburg is a 2016 graduate of the Idaho Career and Technical Education Leadership Institute.
Ronneburg holds a Bachelor of Arts degree in English, a Master of Public Administration degree, and plans to complete her Doctor of Educational Leadership in Higher Education Administration this year. All three degrees were earned at Idaho State.
"Debbie is the right person to ensure continued success and excellence in our College of Technology," said Laura Woodworth-Ney, ISU Executive Vice President and Provost. "Debbie's student-centered approach is at the core of who she is, and under her leadership the college will continue its role as an engine of opportunity for students and families."
Ronneburg will serve as the interim dean until a permanent candidate has been hired, a months-long process that will include a national search. As previously announced, Rasmussen, who has been serving as the College of Technology's dean since 2011, will retire from the University on Jan. 15.
---
Categories: