Idaho State debaters record top-10 places at Carroll College virtual tournament
September 25, 2020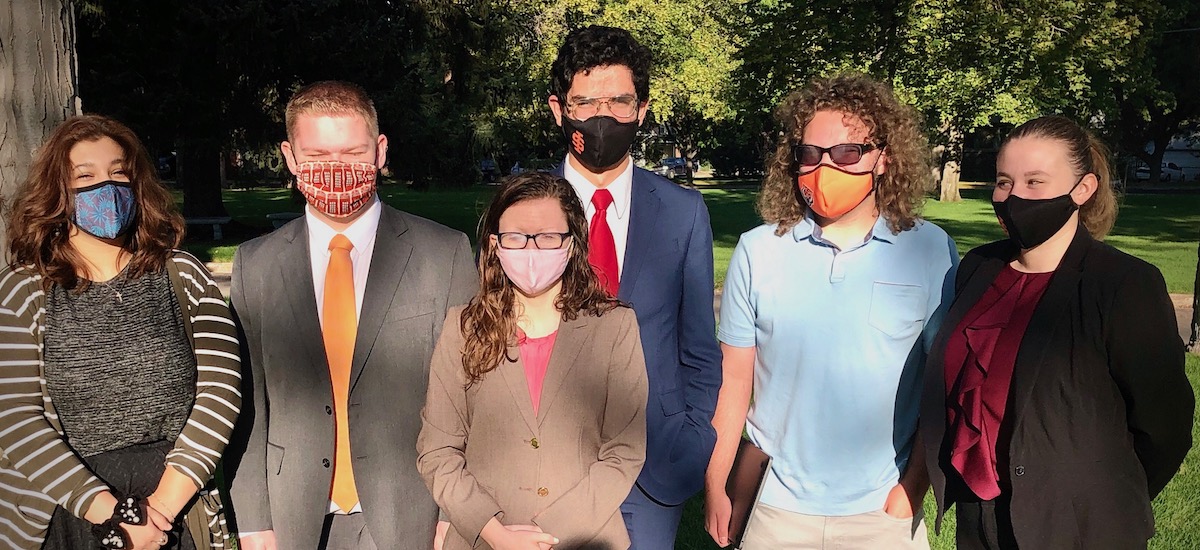 HELENA, Montana – The Idaho State University Rupp Debate team began its season online Sept. 18-20, facing 36 teams from 11 universities at "The Sir" hosted by Carroll College.
ISU debaters narrowly missed the final round in the two-day teaching tournament. Four of the six ISU speakers received top-10 honors for excellence in speaking.
Bengal speakers Jett Smith of Pocatello and Alyson Tyler of Rigby were celebrated in the No. 8 and 7 varsity speaking ranks. Donna Paurevic of Twin Falls took seventh and Colter Barker of Pocatello was awarded second in novice speaking.
The online competition drew a larger field than has been typical in prior years, and in a rare tie-breaking method, the tournament tabulation staff had to drop the top win and bottom loss from every team in the tournament in order to identify the teams who would advance to the final round. ISU missed by mere points to teams from College of Idaho, Carroll College (Helena, MT), and U.S. Air Force Academy at Colorado Springs, Colorado.
Teams participated in British Parliamentary debate, a unique style which pits four teams from four different colleges against one another to argue positions. Topics included "Prioritizing funding for public art," "seating an all-female Supreme Court," "forgiveness of student loan debt" and "government-sponsored interference in another nation's elections as acts of war," among others.
Sarah Partlow Lefevre, the program's director, was pleased with the first tournament of the year. She noted that the debaters paired in a novice-varsity pairing for this first tournament of the academic year.
"We have a core group of very committed debaters who are excited to participate in any way they can," Partlow Lefevre said.
Upcoming debates include Fran Tanner Memorial, hosted by the College of Idaho at Twin Falls; The Hunt Classic from Lewis Clark College; The Mahaffey Memorial from Linfield College in Oregon; tournament Climb Online Tournaments; and others.
---
Categories: