Idaho State Davis Field virtual dedication set Nov. 19
November 17, 2020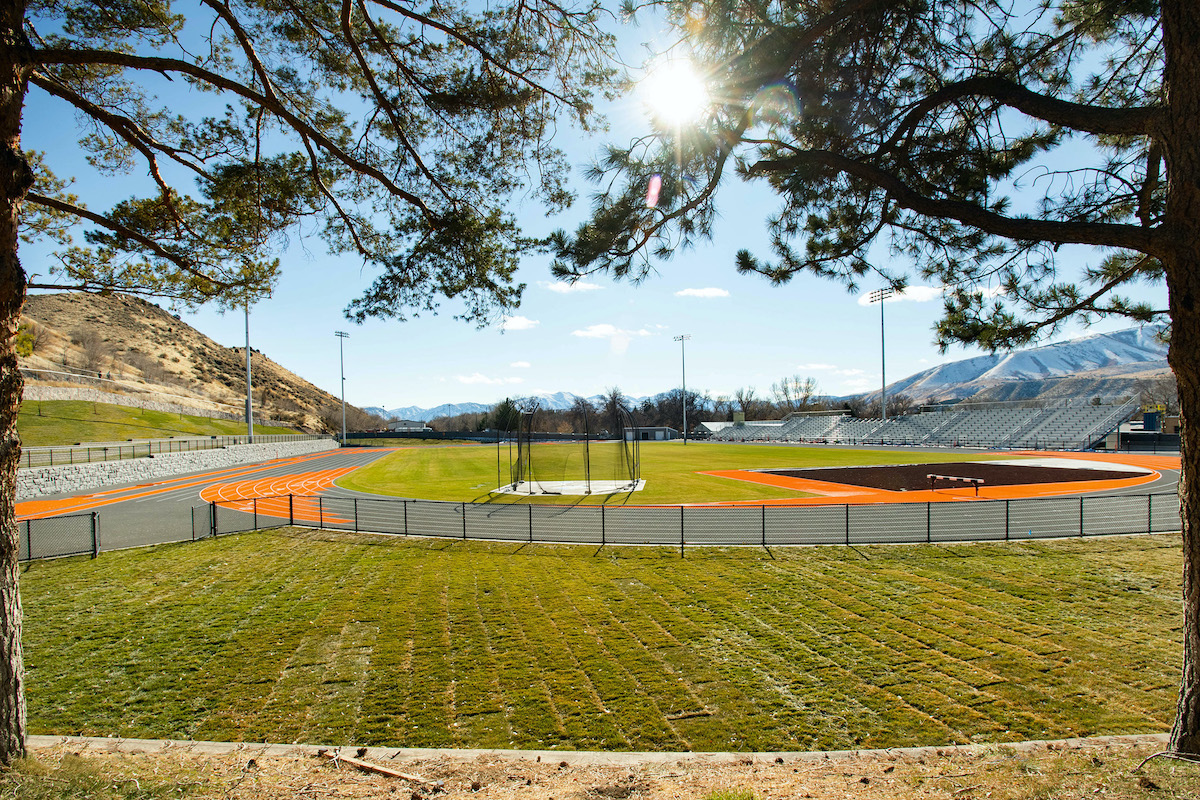 POCATELLO – A virtual dedication celebration for Idaho State University's newly renovated Davis Field will be held at 1 p.m. Nov. 19 and can be viewed online at youtube.com/idahostateu.
"For nearly 90 years, this venue was home to football games, track meets, soccer tournaments, graduations, concerts, speeches, and community fundraisers," President Kevin Satterlee said. "It has always been an integral gathering place for our Bengal community. This project was about honoring our past and leaving a legacy for future generations of Bengals. This is a critical improvement to our athletic program for our student-athletes and fans alike. The newly renovated Davis Field showcases to our entire campus community our ROAR."
Work that was started in March has been completed and Davis Field, home to ISU soccer and track, now boasts $7.1 million in improvements, including a new soccer field, running track, track and field field-events area and lights. It also boasts new seating and landscaping.
"This project means a great deal, much more than a renovation," said Pauline Thiros, athletic director. "It is a symbol of a new day at Idaho State University. A clear sign that we are guided by our values - by our mission. Today, we celebrate coming together as one University, one team, having found a way to do what we know was the right thing for our student-athletes."
Davis Field – a beautiful, historic facility located at the base of Red Hill – was originally constructed in 1937 under the Public Works Administration "New Deal" program of the federal government. The facility housed the football team until 1969.
The improvements have elevated the facility to meet NCAA standards for hosting competitions and championships, including Big Sky Conference and NCAA regional and national events.
Its new improvements include:
• A widened soccer field that now meets NCAA requirements.
• The west bleachers have been replaced with new aluminum bleachers that provide ADA accessibility and the east bleachers have been replaced with a terraced grass hillside for informal seating.
• The track geometry has been modified to increase the speed of the track. The track was also leveled to eliminate an 18-inch height differential between the east and west side.
• LED lights have been added to extend practice and competition times into the evening. The lights feature an entertainment package that will flash for player introductions and gameday special effects.
• A new video scoreboard has been installed that addresses the needs of track and soccer.
The construction manager and general contractor for the project is McAlvain Companies Inc. from Boise. The project engineer is Keller Associates with offices in Meridian and Pocatello.
---
Categories: