Idaho Museum of Natural History to open new exhibit about skulls Sept. 19
September 15, 2020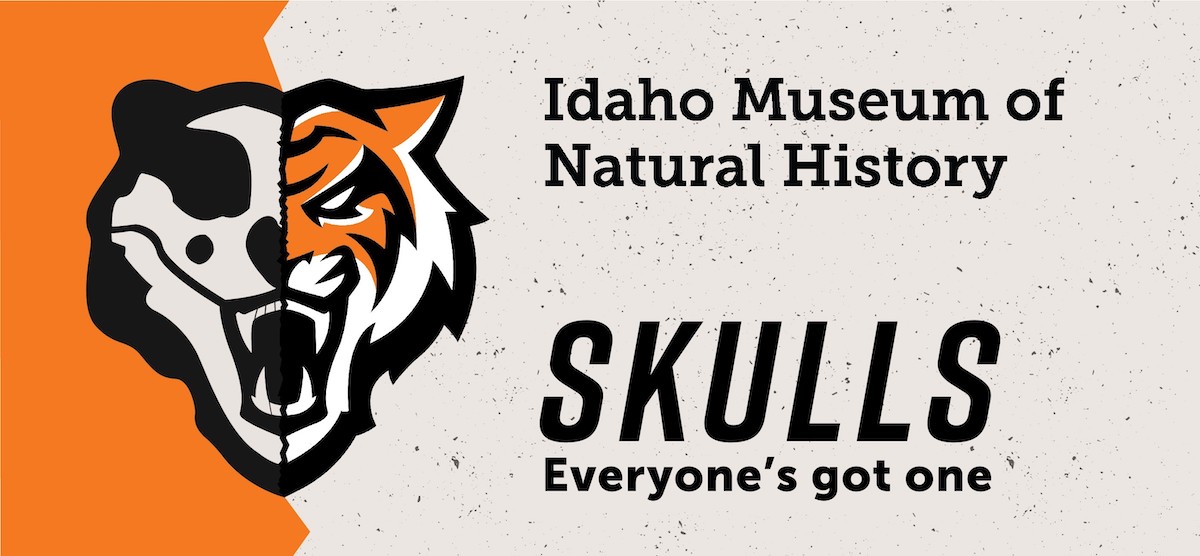 POCATELLO – The Idaho Museum of Natural History on Idaho State University's Pocatello campus is opening a new exhibition exploring the skulls of a variety of both ancient and modern animals.
"Skulls, Everyone's Got One," opening Sept. 19, will surprise visitors on how their skulls measure up to a menagerie of ancient and modern animals. Visitors will learn the skull is a real Swiss army knife that allows animals to show off, hide, battle and consume prey in wildly different ways.
Brandon Peecook, ISU assistant professor of biological and the museum's new curator of vertebrate paleontology, developed this exhibition.
"Our goal with this exhibit is to show visitors the fantastic diversity of skulls," Peecook said. "Of course, we have dinosaurs and elephants, but what about a gigantic extinct salmon? Or a huge saber-toothed predator from before dinosaurs? The real treasures of natural history museums are often deep in their scientific collections, and we're the State Museum for Idaho. We wanted to bring out some gems to share."
The exhibition will feature more than 100 skulls from the Idaho Museum of Natural History collections and 3D printing. The skulls range in size from more than 7 feet to less than an inch. See a minke whale, great hammerhead shark, Diabloceratops, birds, lizards and human skulls. Visitors can pose in front of the wall of spikes, a showcase of horns, antlers, bumps, knobs, and frills animals use to live their life. From giant saltwater crocodiles to dinosaurs, whales, and bison, visitors will never look in the mirror the same way again.
The Museum has procedures to limit the number of guests in the gallery at one time, regularly sanitize interactive spaces after each group, and conduct deeper cleaning before each day. Face coverings are required at the Museum, and will be provided complimentary with purchase of admission.
Visitors concerned about waiting can call ahead at (208) 282-3317.
Museum hours are 10 a.m. to 5 p.m. Tuesday-Saturday and noon to 5 p.m. on Sunday.
The Museum has been serving Idaho since 1934. To learn more about it, please visit imnh.isu.edu.
---
Categories: