Geosciences Professor Sarah Godsey honored as Career Path Internship Supervisor of the Semester
November 19, 2020
Tatyana Van Etten, External Internship Coordinator
POCATELLO – The Idaho State Career Path Internship program has honored Sarah Godsey as the Fall 2020 Career Path Intern Supervisor of the Semester.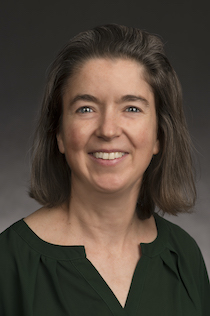 She is an associate professor for the Department of Geosciences and is a supervisor and mentor for CPI students at Idaho State.
"What I enjoy about being a CPI supervisor is seeing my students grow," Godsey said. "They can move towards their long-term career goals, especially if they have been told in the past that they wouldn't succeed or doubt their own skill and abilities."
The nomination for Supervisor of the Semester came from Godsey's CPI intern working off-campus with the City of Pocatello. Even with the disruptions caused by the recent stay at home orders, her CPI intern was able to work diligently and safely on his projects. This project can help Pocatello residents to prioritize future projects to ensure that the city has clean drinking water.
Godsey's intern worked on a comprehensive groundwater quality report for the City of Pocatello and surrounding areas to summarize decades of water quality data. This work included performing nitrate, trichloroethylene, and pharmaceutical trends in the local drinking water. Additionally, her intern was required to complete geologic maps and groundwater gradient maps in order to accurately characterize the lower Portneuf Valley Aquifer system and to communicate complex data and ideas.
Originally from Virginia, Godsey holds a doctorate in earth and planetary science from the University of California – Berkeley, her Master of Science Degree in civil and environmental engineering from the University of Cincinnati and her Bachelor of Arts Degree. in environmental science and Latin American studies from the University of Virginia.
Godsey said she has really enjoyed the combination of being outside and getting to apply math to real-world problems. In 2017, Godsey relocated to Pocatello and was hired at Idaho State University. She enjoys hiking and backpacking with her husband and dog and cooking with new ingredients. She also hopes to work with city or federal agencies to integrate some new equipment that her department is acquiring through grants.
This semester, the CPI Office received more than 70 nominations for the CPI Supervisor of the Semester award. In addition to the grand prizewinner, the CPI Office selected five runners up: John Dudgeon, anthropology; Samantha Blatt, anthropology; Paul Bodily, computer science; Kristine McCarty, College of Business; and Larry Cravens, College of Business.
"The experience that our interns gain from their CPI internships not only prepares them for success after graduation, but also improves the campus and local community," said Emily Jahsman, associate director of the ISU Career Center. "Without excellent supervisors to help guide our interns throughout their experience, our program would not be anywhere near as successful. I am very grateful for all our past, present and future CPI supervisors."
Operating in its 10th year, the CPI program provides approximately 1,000 paid internship opportunities annually to ISU students. CPI internships provide career-related experiences to help students confirm their academic pursuits, gain valuable work experience, and prepare them for life after graduation. For more information about the CPI program visit isu.edu/career.
---
Categories: