Bengals invited to participate in Holt Arena History Walk
October 8, 2020
POCATELLO – The public and all Bengals are invited to commemorate 50 years of the most iconic building on Idaho State University's campus with the Holt Arena History Walk that includes 12 scannable QR codes placed around campus, with cool facts about this landmark stadium.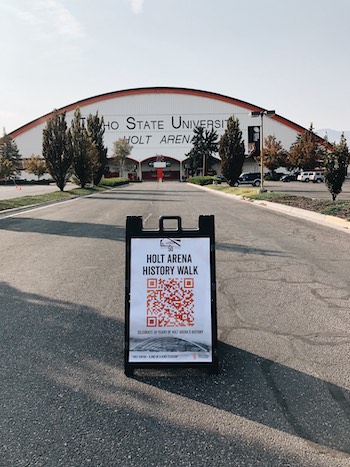 Like many revolutionary ideas, when Dubby Holt first proposed the idea for the Holt Arena it was dismissed as "harebrained" and "silly." However, that outlandish idea became one of the most recognizable stadiums ever constructed, and still stands tall as a testament to the grit, ingenuity and dedication of Idaho State Bengals.
The walk, created by the ISU Office of Marketing and Communications, includes the following stops, all marked by signs, that will stay up through the end of October, weather permitting:
Holt Arena (2)
Pond Student Union
Reed Gym
Rendezvous
Red Hill
Liberal Arts
Fine Arts
College of Technology
Institute Building
Turner Hall
Swanson Arch
For more information on the walk, including a map of sign locations, and information on the history of Holt Arena, visit https://www.isu.edu/holt50/history-walk/.