Aryn Truesdell is September ISU Career Path Intern of the Month; Works with SE Idaho Council of Governments
Tatyana Van Etten, Career C. Intern Coordinator
September 4, 2020
POCATELLO – Idaho State University senior Aryn Truesdell, a senior majoring in marketing with a minor in advocacy, is the September ISU Career Path Intern of the Month.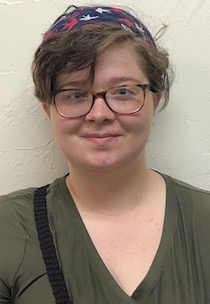 Truesdell currently holds a Career Path Internship position with the Southeast Idaho Council of Governments (SICOG) where she has contributed to multiple transportation projects and the marketing materials related to these projects as well as participating in health fairs and outreach.
"Aryn is always very creative when putting together a vision, and is diligent in completion of projects," said Molly Swallow, transportation specialist for SICOG and Truesdell's off-campus supervisor. "We are fortunate to have Aryn taking on a new project this year with our Safe Routes to School Program. She is assisting in developing a program from the ground up."
Other internship duties included creating marketing materials for Pocatello Regional Transit and writing Mobility Moment, a monthly newsletter about transportation in Southeast Idaho.
"I did a study on J-route last semester and it was nice to see how my observations, work, and recommendations went into planning the current J-route to include the new Eames Complex this semester," Truesdell said. "I've gained a lot of great tools to use on future projects, and made amazing connections with people I know will always be good acquaintances and mentors. My internship has solidified my future plans to work in non-profit marketing, project development and fundraising; it's given me resources, knowledge and confidence I need to make my dream career happen."
Originally from Idaho Falls, Truesdell plans to get a master's degree in nonprofit administration and a master's degree in marketing. Her dream job is working as a contractor or starting a business to help smaller, more hands-on non-profits with their marketing and finding funding through grants, endowments and fundraising programs.
In her spare time, she likes to play video games, read, forage for wild edible plants and fungi, and care for her many pets.