Aiden Parker named Idaho State December Career Path Intern of the Month
December 7, 2020

POCATELLO – Aiden Parker, an Idaho State University sophomore pursuing a bachelor's degree in political science and global studies, has been honored as the ISU December Career Path Intern of the Month by the Career Center.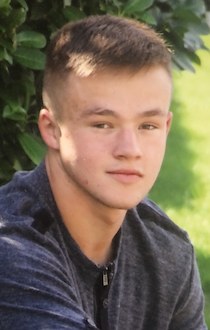 Parker has a Career Path Internship position with the ISU political science department. His most recent work revolved around collecting information on the Master of Public Administration and Master of Public Policy degree programs throughout the country, including the number of core courses, the national ranking of programs, the type of university, the content of core courses and which universities were minority-serving institutions.
"I have been consistently impressed with Aiden's attention to detail. He knew to flag strange cases for clarification and has kept impressive notes," said Edward Kammer, political science assistant professor and Parker's supervisor.
Kammer noted that Parker mentioned he was being especially precise in noting these things to ensure that the data was usable for the research project.
"The highlight of this research was being exposed to the research methods that professionals use to gather data," Parker said. "I never understood how the world of academia could legitimately change solidified institutions such as university's programs; through this project it has become clear that academics should have a large role in shaping our environment due to their ability to collect, analyze, and formulate data."
Originally from Selah, Washington, a small town in Central Washington, Parker hopes to pursue a career in academia that would allow him to do further research into areas important to him such as policy degrees. After graduation, he plans to join the Peace Corps for a two-year tenure then take the State Department Exam and pursue a career in public service.
In his spare time, he enjoys hiking, hunting, being an activist for those in need and his favorite hobby; lifting weights.
---
Categories: