Three ISU teams place in the Idaho Entrepreneur Challenge in Boise
April 2, 2019
Kelsey West, COB Marketing Director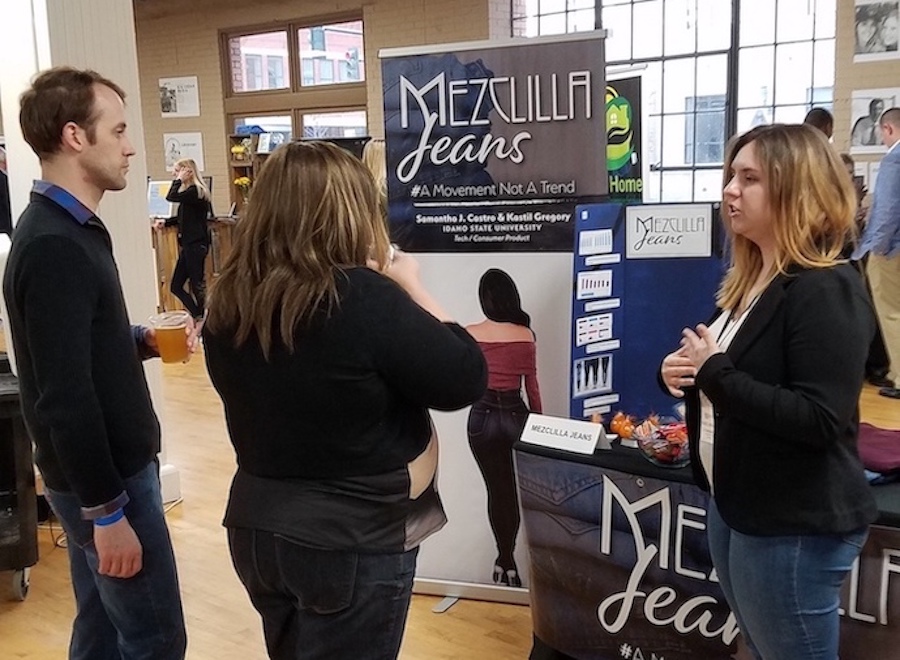 POCATELLO – Last week, four student teams from throughout Idaho State University traveled to Boise to compete in the Idaho Entrepreneur Challenge. Of the four ISU teams that made it to the finals, three placed taking home a portion of the competition's $100,000 in prize money.
Division of Health Sciences student Donald Young and Health Care Administration student, Kaylie Johnson won overall runner-up for their idea "MaxVac," a unique plastic device that would store and dispose syringes for safer use in hospitals and medical settings.
College of Business students Kastil Gregory and Samantha Jimenez-Castro won best minority-led company for their idea "Mezclilla Jeans." This line of jeans is targeted at curvy Hispanic and Latina women.
Winning best marketing and trade show were College of Business students Matazie Hobbs and Alexis Christiansen. This duo's idea "Sani-Station" included a prototype which would automatically spray disinfectant inside a diaper changing station when no longer in use.
According to the teams' mentor and director of the College's Center for Entrepreneurship and Economic Development, Jeff Street, the Idaho Entrepreneur Challenge had more than 200 applicant teams this year. This included 500 students and 24 finalist teams, which consisted of 62 students. Street said that 11 public and private institutions were involved in the competition this year; seven of those had teams that competed in the finals.
"This was more than double the applications over previous years," Street said.
Before entering into the Idaho Entrepreneur Challenge, Street's class had 37 teams, 28 of which competed in December's U.S. Bank Pitch-Off competition. Of those 28, eight teams applied for the final competition in Boise.
After the competition, at least two of these winning teams have already began working with the Small Business Development Center to work on taking their products to market, including MaxVac and Mezclilla Jeans.
"Competing in the IEC is a year-long activity that requires passion and energy for your idea," Street said. "Our students gave their all in representing ISU and certainly rose to the challenge. We have some very talented students on our campus."
---
Categories: