Shoshone-Bannock Tribes, ISU Sign Memorandum of Agreement
April 9, 2019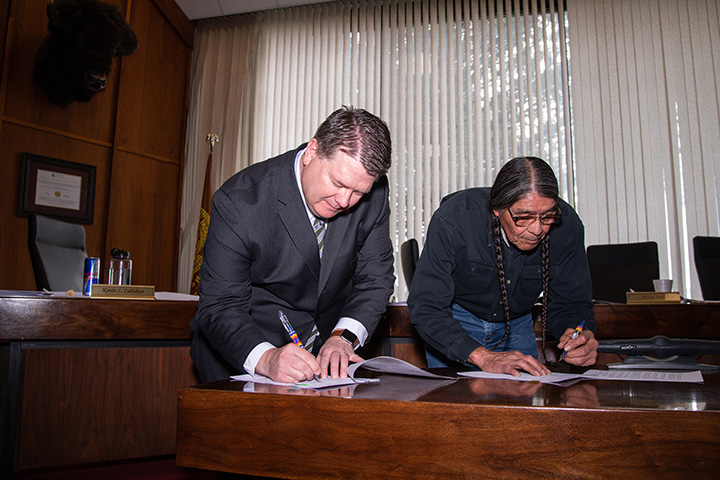 FORT HALL — Idaho State University President Kevin Satterlee and Shoshone-Bannock Tribal Council chairman Nathan Small signed a Memorandum of Agreement Tuesday committing that the University and the Shoshone-Bannock Tribes will work together to enhance educational and cultural opportunities in Southeast Idaho.
The agreement includes a commitment to promoting cultural diversity, expanding governmental relations and communication, working together to offer educational opportunities and providing support for Native American students.
At the signing Tuesday, President Satterlee said he understood and honored the fact that the University is located on original tribal lands.
"Please know that I honor those lands as the home of Idaho State University and that I think the location of Idaho State places a responsibility on the University to ensure our educational mission extends fully to all tribal members," Satterlee said. "I am here today to honor and live up to that responsibility."
Along with annual meetings between the Tribes and ISU, the agreement allows for creation of a tribal/university advisory board comprised of four representatives from the Shoshone-Bannock Tribes, four representatives from ISU, and two Shoshone-Bannock students. The board is tasked with meeting regularly to focus on issues such as student needs and support, expanding and developing academic programs, and creating academic discourse and collaborative research.
Shoshone-Bannock Tribal Council Chairman Nathan Small said that in their treaty, the Tribes acknowledged the importance of education, and that they look forward to continuing communication and collaboration with the University. Representatives from both the Tribes and the University worked diligently to see the agreement come to fruition.
"It's good to see this day has come," Small said. "We have been looking forward to this for quite some time."
Satterlee said the memorandum was only the beginning of an important ongoing partnership.
"The great thing about today is that this is not the end," he said. "Our work to craft this agreement may have concluded, but today's signing actually represents not the recognition of that effort, but instead is the celebration of a new beginning."
##
---
Categories: