Sadie Morrell is ISU May Career Path Intern of the Month
May 8, 2019

POCATELLO – Sadie Morrell, a sophomore pursuing a bachelor's degree in health sciences, is Idaho State University's May 2019 Career Path intern of the month.
Morrell holds a Career Path Internship in the Veteran's Student Services Center that provides education and community resources for student veterans and their families. During her internship, Morrell has coordinated with ISU's health discipline programs to help students apply their classroom experiences to a real-world situation.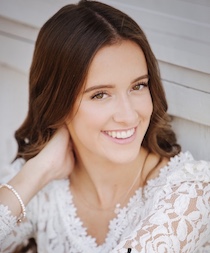 In the upcoming months, Morrell will be working as the coordinator of the Southeast Idaho Homeless Stand Down to plan the fall 2019 event. This Stand Down is an opportunity for the homeless or others struggling in Southeast Idaho to access health care, financial and legal services, Veterans Administration Services for the veterans, clothing for families and other regional support services.
"Sadie's interest in helping people develop personally and professionally makes her an ideal candidate for assisting in the coordination of this event, and learning about all of the tremendous resources available in the region," said Todd Johnson, director of the Veteran's Student Services Center and Morrell's supervisor. "The SEIHSD (homeless stand down) advisory board is very grateful to have her participation and enthusiasm."
Morrell plans to pursue a degree in occupational therapy and hopes to continue to work with the military population. She first became interested in assisting veterans after working with a veterans program for a high school senior project.
"I really like working with veterans," Morrel said. "They are great individuals and I hope to have a career where I can continue to support them."
Originally from Firth, Morrell enjoys spending time outdoors, practicing ballet and hanging out with friends.
For more information on the ISU CPI program, contact Emily Jahsman at jahsemil@isu.edu.
Idaho State University, a Carnegie-classified doctoral high research activity university and teaching institution founded in 1901, attracts students from around the world to its Idaho campuses. At the main campus in Pocatello, and at locations in Meridian, Idaho Falls and Twin Falls, ISU has nine Colleges, a Graduate School and a Division of Health Sciences that together offer more than 250 certificate and degree programs. More than 12,000 students attend ISU. Idaho State University is the state's designated lead institution in health professions.
---
Categories: