Research by ISU's Shannon Kobs Nawotniak figures prominently in special issue of Astrobiology released in March
March 18, 2019

Is the best way to communicate with future astronauts on Mars by texting?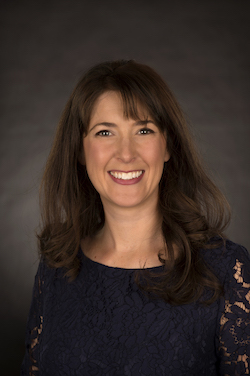 POCATELLO – Texting may be one of the best ways to communicate with future astronauts on Mars and other planets.
This is one of the conclusions of a study published by Idaho State University geosciences Associate Professor Shannon Kobs Nawotniak in a special collection edition of the journal Astrobiology that was published March.
Astrobiology – which is the most-cited peer-reviewed journal dedicated to the understanding of life's origin, evolution, and distribution in the universe – published this open-source (open to public) edition that is devoted entirely to some of the research findings of NASA's Biologic Analog Science Associated with Lava Terrains (BASALT) project, led by NASA's Ames Research Center in California's Silicon Valley.
BASALT is designing and developing elements of future missions that could send humans to conduct science and exploration on Mars. Many of the lessons they learn can also be applied to human exploration of the Moon, the moons of Mars and near-Earth asteroids.
Nawotniak was the main author on one of these articles and a co-author on nine others.
The article she was the main author on was titled "Opportunities and Challenges of Promoting Scientific Dialog throughout Execution of Future Science-Driven Extravehicular Activity." In this article Nawotniak compared communicating through voice, video, still images, text messaging and other methods.
"Text-based communication is far preferable to audio transmission over latency [the time delay caused by the distance between the planets], allowing message recipients to prioritize their own tasks in the moment and maintain a written record of communication for review throughout the EVA (extravehicular activity or "spacewalk") as desired," she said in the article.
Texting has several other advantages and could be used in conjunction with other communication methods. For a complete look at this study and others published in this edition of Astrobiology, visitwww.liebertpub.com/toc/ast/19/3.
Nawotniak said she was excited to see this special edition of Astrobiology come out devoted to the research of the NASA BASALT project.
"We are talking about changing the game for space exploration and having it driven by science, and to do that you have to be able to enable high-quality communication between Earth and Mars," Nawotniak said.
Because of the speed of light, the fastest possible communication one-way between Earth and Mars varies from 4 to 22 minutes because of the vast distance between the two planets.
"You just can't break that speed," she said. "So if you are 15 light minutes away on Mars and you ask a question to someone on Earth, it will take 15 minutes to hear the question and 15 minutes for an answer -- and that's if it takes them no time to figure out the answer to the question. During that whole time, you might have an astronaut trying to work with a limited air supply. You have to be thoughtful about how you communicate."
As the 50th anniversary of the Apollo 11 landing on the Moon approaches this July, Nawotniak said she and her colleagues are excited about the possibility of putting astronauts and scientists back on the surface of other planets to help understand foundational questions such as "are humans alone in the universe and is there life on Mars?"
"To get more human missions back up in space we need to know two things: what are we looking for and how we can do it," Nawotniak said. "Once we know what our targets are, how do we actually make it work? How do we support astronauts so far away to be able to go out there and not just survive the journey, but be able to do the science and do it well?"
She noted that since the end of the Apollo missions in the early 1970s there have not been any humans on other planets, although there have been manned space stations and many unmanned missions to Mars.
"It is a huge paradigm shift, to get people back up there again, to get people on the moon and Mars in a step beyond what the Apollo missions were capable of. Our work here is about making those plans," Nawotniak said.
###

Idaho State University, a Carnegie-classified doctoral high research activity university and teaching institution founded in 1901, attracts students from around the world to its Idaho campuses. At the main campus in Pocatello, and at locations in Meridian, Idaho Falls and Twin Falls, ISU has nine Colleges, a Graduate School and a Division of Health Sciences that together offer more than 250 certificate and degree programs. More than 12,000 students attend ISU. Idaho State University is the state's designated lead institution in health professions.
---
Categories: