Program director of Idaho State University-Idaho Falls Ann Howell Retires
March 1, 2019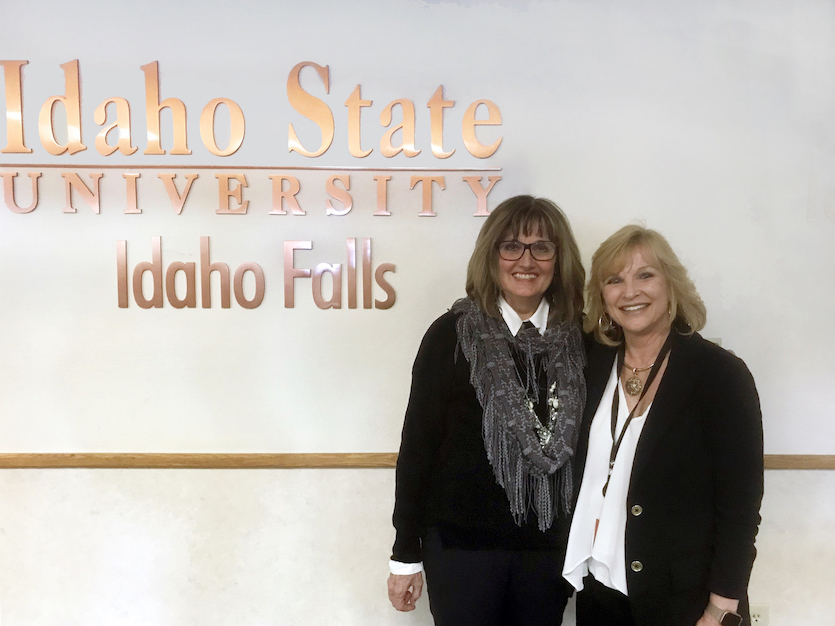 IDAHO FALLS – Ann Howell is stepping down after 21-1/2 years of being the Director of University Programs at Idaho State University – Idaho Falls.
"I've loved every day coming to work," said Howell, an ISU alumna. "Some people skip out the door but not me. I'm doing it now because it is a the right time. The campus is in a really good spot. I've loved it, and didn't really want to leave."
She said she could still work one or two more years, but her family was urging her to take time to be with family, travel, golf, garden, pursue artistic interests and other activities.
Howell, an Idaho Falls native, has held several job titles at ISU-Idaho Falls starting as director ISU-Idaho Falls, then assistant dean of enrollment management and then back to director. Her last day was Feb. 28, and a reception was held for her at the ISU Bennion Student Union Building.
"I came here at a time Idaho Falls really needed a community college and ISU-Idaho Falls filled that mission for many years," Howell said. "It would have been impossible for a lot of local students to go to college if they couldn't have attended ISU-Idaho Falls. I am proud of helping ISU provide the first two years of a university education in an area that certainly needed it."
Many Upper Snake River Valley students who started at ISU-Idaho Falls ended up getting their full four-year bachelor's degrees in Idaho Falls as well.
"Over the years we've been transitioning. Even before the College of Eastern Idaho we were shifting more emphasis to the second two years of bachelor's degrees, master's and doctoral degrees," Howell said. "We've had that vision for a long time. That is where we need to be and we're moving in that direction."
She noted that the Idaho Falls Polytechnic Initiative is hiring instructors and is moving forward since receiving $1.8 million in funding from the Idaho Legislature about two years ago.
Howell said she will miss the staff and students at ISU-Idaho Falls.
"My staff has been incredible and I've worked with so many good people," she said. "They have all been so student-focused. That is what has made ISU-Idaho Falls such a good place for students. And it was rewarding to see students get their degrees here."
Howell will, in turn, be missed by her staff and colleagues.
"For more than 20 years Ann Howell has led students services and Idaho State University campus in Idaho Falls," said Lyle Castle, ISU dean for Idaho Falls and vice provost for academic outreach. "The impact of her dedication and leadership will be felt for many years to come. I wish her the best. She has been an amazing colleague and a great friend."
Ches Barnes, ISU-Idaho Falls Bennion Student Union director who has worked with Howell for the last 14 years, said Howell focused on students.
"People I've spoken with in the community and with faculty and staff here, all have said that Ann has really been a driving force for much of the growth on campus," Barnes said. "She put an emphasis on being student-centric. She understands we are here for the students and she always understood the importance of the faculty and staff on campus. She also understood the importance of community support – that was the big-picture view she always had. She really benefitted the campus and will be missed."
Howell was active in the community as evidenced by her participation on the Idaho Falls Rotary Board, Idaho Falls Chamber Board, City Club Board, Idaho Falls Symphony Board, Idaho Falls Mayor's Scholarship Board and the John and Olive Adams Scholarship Board.
Prior to working at ISU-Idaho Falls, Howell had a variety of vocations. She taught school for three years, was a school counselor at Idaho Falls High School for seven years and helped her family run Kelly Canyon Ski Area.
Howell's family moved to Idaho Falls in 1952 when her father went to work for the Idaho National Laboratory. She earned a teaching certificate with emphasizes in history and English in 1972 from Utah State University, and earned a master's degree in counseling from ISU in 1991.
---
Categories: