Pocatello native Morgan James to return home with White to Blue Tour Concert March 16
March 7, 2019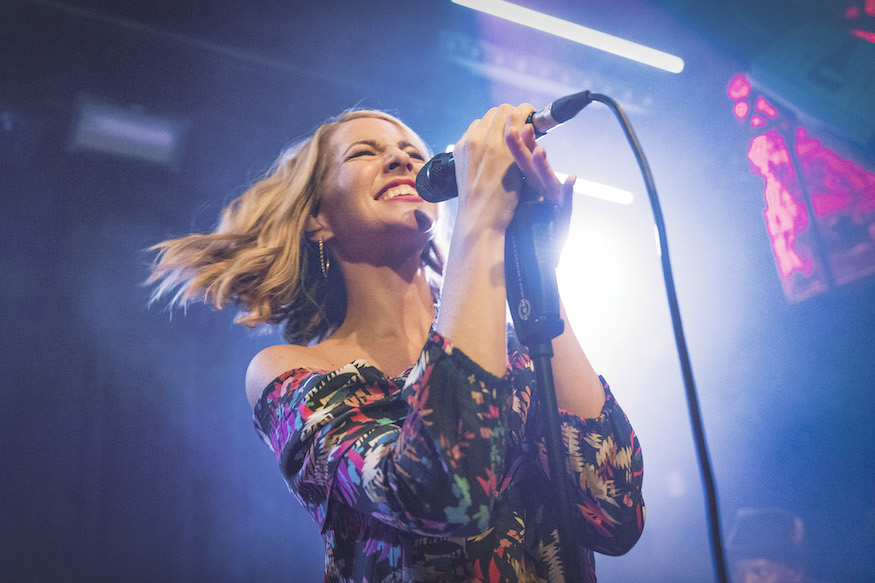 POCATELLO – Pocatello native and soul-singer Morgan James ­– whose songs have garnered millions of views on YouTube – is coming back home to perform in the Gate City when she brings her White to Blue Tour to the Jensen Grand Concert Hall in the Stephens Performing Arts Center at 7:30 p.m. March 16.
Born in Boise, she spent her youth from being an infant to 11 years old living in Pocatello. Her parents are Pocatello natives – her dad graduated from Highland and her mom from Pocatello High School, and while she's stopping in Pocatello the 20-year New York City resident will be staying with her aunt and uncle.
"I've never performed in Pocatello before and have never seen the Stephens Performing Arts Center and I'm really looking forward to it," James said. "I hope people come out even if they don't know my music because I have something for everyone."
People may be more familiar with her music than they think.
"I am definitely a soul singer and have over 175 million views on YouTube, so people may not know that they already know me, and if they are curious about the concert they can look me up on YouTube," she said.
Her act features a guitar player, bass player and bas and percussionist.
"It will be an intimate evening featuring some Joni Mitchell songs, songs from the Beatle's White Album and I'll be performing some of my music from my older albums and some brand new songs that I'll record on my upcoming album."
Her tour started in early March and goes through June, before she hits the studios again to produce a new album.
"I am one of those weird creatures that loves being on the road," James said. "I get to tour with husband, my two dogs and my band mates. I love seeing a new city every day."
Her concert will include songs from her The White Album cover that was due for release in late October and is timed to celebrate the 50th anniversary of The Beatles original release of the White Album that happened Nov. 22, 1968.
While each song is performed in its original key, James provides a soulful vibe and feminine flair to songs originally penned and recorded by four lads from Liverpool.
Throughout her career, James has taken on beloved roles and songs to give them her unique perspective and make them her own. She rocked the stage as Christ herself in an all-female version of Jesus Christ Superstar, took on a full-album acoustic cover of D'Angelo's Black Messiah, and brought the critics to their feet with her cover of Joni Mitchell's classic Blue album.
James has also recorded and toured with Scott Bradlee's Postmodern Jukebox, a musical collective that covers modern songs with a vintage twist – turning today's pop hits into swing and jazz classics. Most recently, she released a video in which she put her signature spin on the Nirvana grunge rock classic Lithium.
For more information on James' music, visit www.morganjamesonline.com.
Tickets are $25. To purchase tickets, call or visit the Stephens Performing Arts Center Ticket Office between 10 a.m. and 4:30 p.m. weekdays, phone 208-282-3595 or visit www.isu.edu/tickets.
There are also VIP packages available for $55 that include a private meet and greet with James and her guitarist, and an exclusive autographed poster of James
Idaho State University, a Carnegie-classified doctoral high research activity university and teaching institution founded in 1901, attracts students from around the world to its Idaho campuses. At the main campus in Pocatello, and at locations in Meridian, Idaho Falls and Twin Falls, ISU has nine Colleges, a Graduate School and a Division of Health Sciences that together offer more than 250 certificate and degree programs. More than 12,000 students attend ISU. Idaho State University is the state's designated lead institution in health professions.
---
Categories: