Kevin Satterlee officially inaugurated as Idaho State University's 13th President
April 26, 2019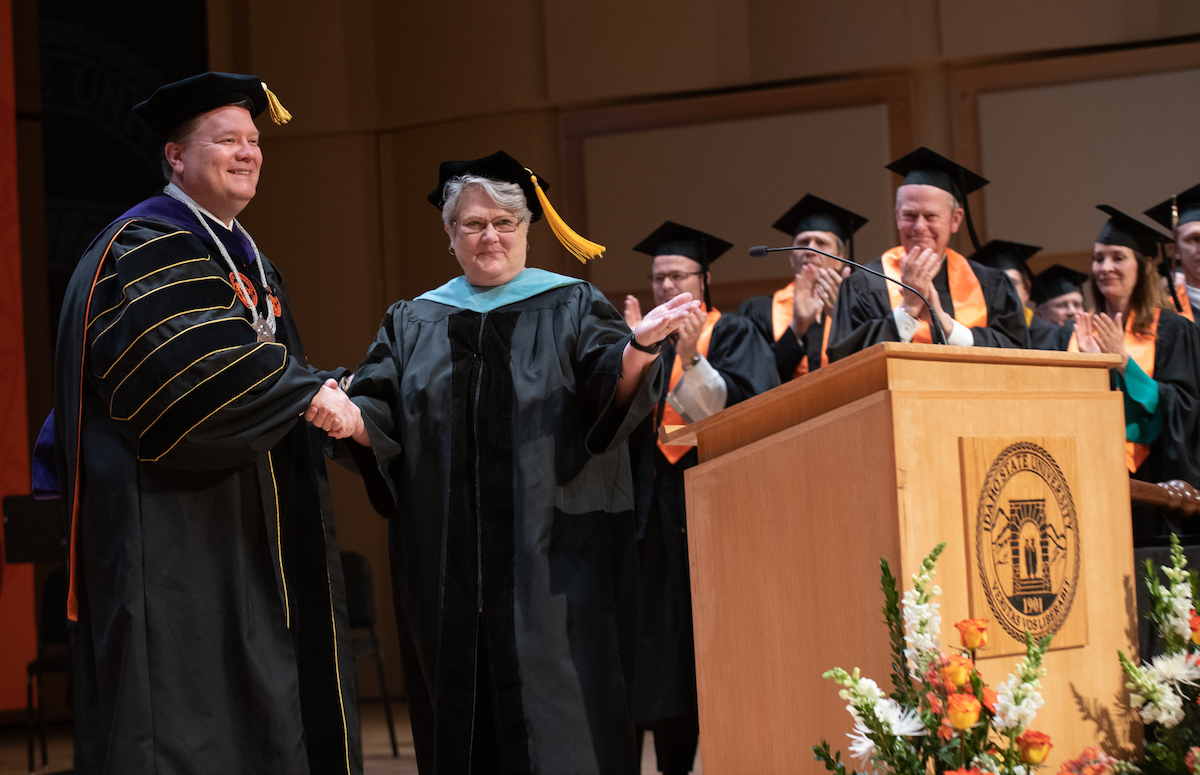 POCATELLO – Student success is one of the many reasons Bengals roar, Idaho State University President Kevin Satterlee said at his official inauguration held April 26 at the ISU Stephens Performing Arts Center.
"We are here to help students better their lives," he said. "And I am here today to make a commitment to that mission. A commitment, that as President, all of my decisions in this position of high trust will be made with our why in mind. With our students in mind. Our goal is to help our students get an education that will be the basis for every decision I make in this position."
Satterlee was officially inaugurated as Idaho State University's 13th president at a ceremony that was attended by students, faculty and government and community leaders including Idaho Gov. Brad Little, Lt. Gov. Janice McGeachin and State Board of Education members.
The new ISU president was welcomed by students, faculty and government and community leaders.
"To be standing in front of all of you right now, on this stage, in this amazing facility, at this fantastic University, is incredibly humbling," said Satterlee, a native Idahoan from Priest River. "But it is also a testament to what we do as a university and more importantly why we do it. I am standing before you today, as a first-generation college student, as living proof of why we do what we do, in short, why we roar."
Satterlee spoke about the importance of having passion for education and for helping students, and listed a few of the accomplishments of ISU students this year.
"We get to be part of having that impact on the lives of our students every day," he said. "That is why we roar."
Working side-by-side with faculty and staff, Satterlee said ISU is devoted to its students.
"So, if you are a student who wants an education at a place that understands you, that understands our student-centric mission, that understands why we are here, then you have found your home," Satterlee said. "You have found your roar. Come join this roar."
Satterlee delivered his inaugural address after Gov. Little offered greetings from the state of Idaho, Fort Hall Tribal Business Council Chairman Nathan Small greeted Satterlee and an Honor Drum was performed, and greetings were offered by ISU faculty representative Karen Appleby, an education professor, and Associated Students of ISU President Logan Schmidt.
Schmidt said he has loved working with Satterlee this year.
"He has created a positive, and exciting atmosphere for the ISU community," Schmidt said. "He truly is letting every inch of Idaho hear our roar. When people ask me about Kevin, I tell them, 'We are lucky.' When I talk to Kevin and tell him what the students are thinking, he really listens. He hears what we have to say and really wants to make things better. And he does what he says he is going to do.'
"So when he says that this state will hear our roar," Schmidt said, "he means it. Get ready Idaho. You are about to hear these Bengals roar."
An investiture is a formal ceremony conferring the authority and symbols of higher education and the Office of the President on a new university leader. It is typically held during a university president's first year in office. The Idaho National Laboratory sponsored the inauguration, which included events throughout the week. Nearly $107,000 in scholarships was raised at the event through sponsorships and a fundraising dinner.
Prior to his arrival at ISU, Satterlee served 17 years at Boise State University in a variety of leadership positions, most recently chief operating officer, vice president and special counsel to president. Prior to his time at BSU, Satterlee was deputy attorney general in the Idaho Attorney General's Office for six years and during much of that period, served as chief legal officer to the State Board of Education.
He earned his bachelor's degree in political science, magna cum laude from Boise State University and was named a Top-10 Scholar of the University. He earned his law degree, magna cum laude, from the University of Idaho.
Satterlee and his wife, Margaret, are both multi-generational Idaho natives. The couple has three children.
The investiture event was live-streamed and is available for viewing at www.youtube.com/idahostateu.
---
Categories: