Kathryn Hogarth named Idaho State University 2018-19 Student Employee of the Year
April 29, 2019

POCATELLO — Kathryn Hogarth, an Idaho State University Department of Civil and Environmental Engineering employee and student, has received the ISU 2018-2019 Student Employee of the Year Award and a $2,000 scholarship from the ISU Career Center and Scholarship Office.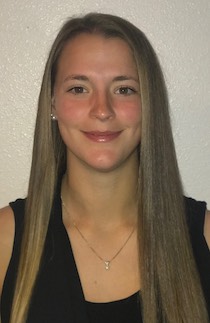 Students were nominated by supervisors based on the impact the nominee has had on the campus and community, leadership skills, outstanding quality of work, and extraordinary initiative.
Other students honored included:
• First Runner Up: Sophia Perry, College of Business, majoring in management and marketing, $413 Lupher Scholarship
• Second Runner Up: Merisa Olufson, Information Technology, majoring in radiographic sciences, $100 ISU Book Store gift card donated by the Career Center
• Third Runner Up: Steve Coburn, Central Academic Advising, majoring in business informatics, $50 gift card donated by the Office of Student Affairs.
Student employees are vital to the mission of Idaho State University and ISU recognizes excellence in its student employees each year through National Student Employment Week, held in April.
During her time working for the Department of Civil and Environmental Engineering, Hogarth, who is from McKinney, Texas, has worked as a student employee on various projects, including projects with Idaho National Laboratory, the Center for Advanced Energy Studies and the Idaho Transportation Department.
By serving as vice president for the American Society of Civil Engineers Student Chapter at ISU, Hogarth helped her department, the College of Science and Engineering, the University and the Pocatello community by working on a number of events, said Mustafa Mashal, ISU assistant professor of civil and environmental engineering, who nominated Hogarth.
"Katie has done a fantastic job working on our research projects," Mashal said. "She is an accomplished civil engineering student, athlete and is a role model for females in civil engineering. ISU is lucky to have students such as Katie."
Photo information: Kathryn Hogarth
Idaho State University, a Carnegie-classified doctoral high research activity university and teaching institution founded in 1901, attracts students from around the world to its Idaho campuses. At the main campus in Pocatello, and at locations in Meridian, Idaho Falls and Twin Falls, ISU has nine Colleges, a Graduate School and a Division of Health Sciences that together offer more than 250 certificate and degree programs. More than 12,000 students attend ISU. Idaho State University is the state's designated lead institution in health professions.
---
Categories:
College of Science and EngineeringStudent LifeUniversity News