ISU, University of New Hampshire researchers seek help in solving Southeast Idaho cold case murder from 1970s
May 16, 2019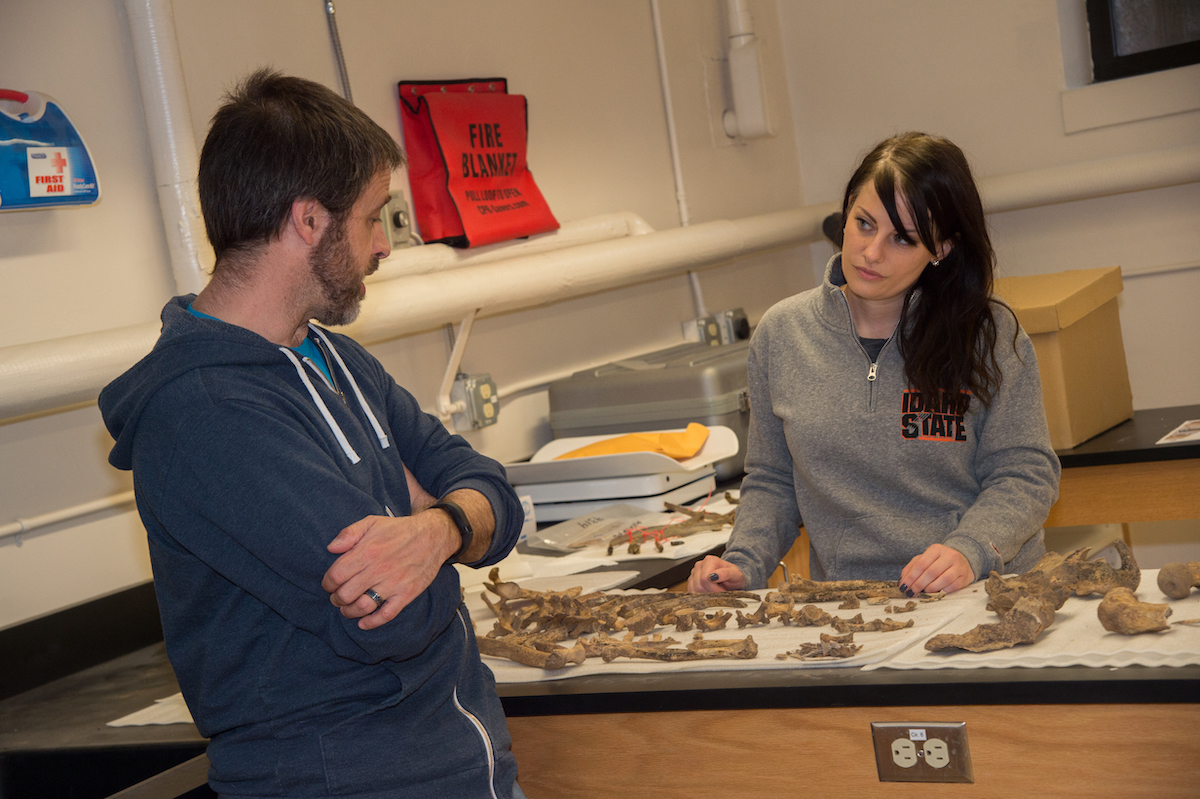 POCATELLO – Anthropology researchers from Idaho State University and the University of New Hampshire are seeking help from potential donors to help fund a DNA extraction of the remains of a Clark County cold-case murder victim in Southeast Idaho dating back to 1979 or before.
The researchers are trying to raise about $2,300 to fund a service, the DNA Doe Project, which works to extract DNA from cold case victims and uses forensic genealogy to recover their identities.
The remains are of a presumed murder victim that were found in a cave near Dubois, Idaho in Clark County. The headless torso was found in a burlap bag in 1979 and his limbs were found in 1991 in the same cave. The remains of victim were turned over to ISU in the 1990s and ISU researchers and their collaboratives have been trying to solve the mystery ever since in cooperation with the Clark County Sheriff's Office.
Now, Amy Michael, who previously worked at ISU and now works at the University of New Hampshire and continues to work with ISU researchers, wants to send the remains to be analyzed using the DNA Doe Service.
"I believe that resolution of this case would mean a lot to Southeast Idaho and bring an end to at least the mystery of identity in a case that has made it all the way to the Smithsonian and back to ISU," Michael said.
The DNA Doe Project is an initiative that uses genetic genealogy to identify John and Jane Does and has been used by law enforcement agencies and medical examiners across the country, to help solve cases. This all-volunteer organization includes a "DoeFundMe" program that allows smaller and less-well-funded agencies to take advantage of its services. This is where the general public and interested parties come in – to help fund this service.
"It is my belief that this method is likely the only way that the victim will be identified," Michael said. "I have secured the permissions of the Clark County Sheriff's Office to pursue this route."
Christian Petersen, an assistant lecturer in the ISU Department of Anthropology, has worked on solving the mystery of these remains off-and-on for the past 20 years.
"Every forensic anthropologist who has come through ISU has taken a shot at solving this and I think it is great," Petersen said. "This is science. If you don't solve the problem, you put it down a couple of years and try again. Remember, this is an individual who was murdered and then cut up into pieces and buried in a cave. His family never knew what happened to him. I would love it if this case was solved."
He commended Michael's efforts.
"Amy has spearheaded this newest effort and it is my fondest hope that this is successful," Petersen said. "We're thrilled that she is doing this. She just can't put a problem down and we are happy she is pushing hard to get this done."
The DNA Doe Project DoeFundMe site for this specific case is: http://dnadoeproject.org/case/clark-county-john-doe/.
Interested parties can also contact Petersen at petechri@isu.edu or 208-282-4154. Tips related to this case can be reported to the Clark County Sheriff's Office at 208-374-5403.
###
Idaho State University, a Carnegie-classified doctoral high research activity university and teaching institution founded in 1901, attracts students from around the world to its Idaho campuses. At the main campus in Pocatello, and at locations in Meridian, Idaho Falls and Twin Falls, ISU has nine Colleges, a Graduate School and a Division of Health Sciences that together offer more than 250 certificate and degree programs. More than 12,000 students attend ISU. Idaho State University is the state's designated lead institution in health professions.
---
Categories: