ISU student athlete Chris Brininger earns master's in chemistry – heading on for Ph.D.
May 1, 2019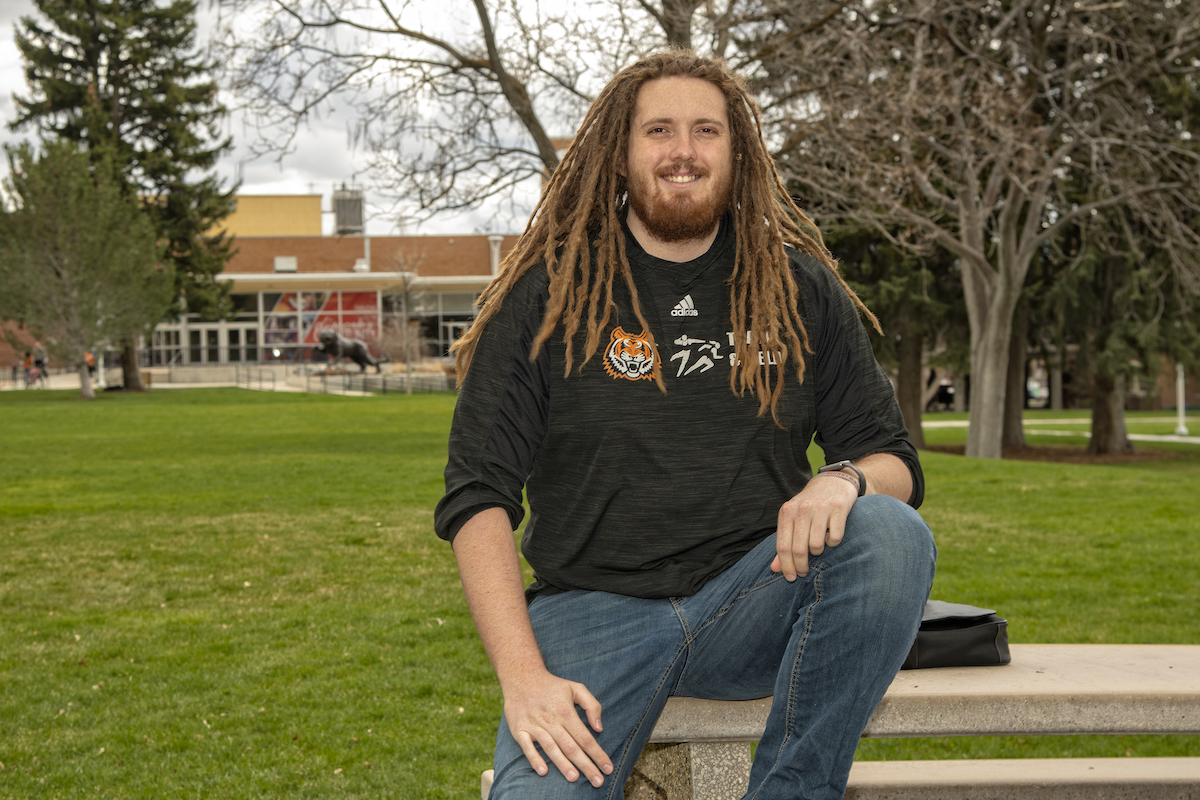 POCATELLO – If Idaho State University student and track athlete Chris Brininger hadn't decided to ride his motorcycle at the St. Anthony Sand Dunes during his junior year of high school, the Boise resident may have never discovered ISU and his passion for research.
"I actually found ISU by chance," said Brininger, who will earn a Bachelor of Science degree in biochemistry and chemistry with honors distinction and a Master of Science Degree in chemistry at ISU's 2019 commencement on May 3. "I happened to come here when I was going dirt-biking at the St. Anthony Dunes, right when I was really starting to look at colleges, and I toured ISU just to see what a college campus is like. I liked it enough I sent my application in and it worked out."
After applying he was offered honor's scholarships and other support.
"I got a lot of scholarships and it was an inexpensive option, but it ended up being a great choice that I made," he said. "The opportunities ISU gave me could not have been matched by any of the other schools I was looking at."
Those opportunities included competing in Division I college athletics and the opportunity to do high-level research in a demanding academic discipline, plus he found his career calling, doing biochemistry research.
Brininger competed in track field events – the hammer, weight throw and discus – four of the five years he was at ISU. He sat out the indoor season his freshmen year and the spring outdoor track season his junior year. He is second on the ISU all-time list for the weight throw (60-feet, 3-1/4 inches) and fifth all-time in the hammer (182 feet, 8 inches).
"It was a lot of fun competing in track," he said. "It was a very good competitive thing for having done sports all the way up to college, and it was nice to have a competitive outlet while I was still in college. I really liked the track team here."
But balancing the demands of athletics and academics wasn't easy.
"There's a lot of difficulty fitting in the amount of lab requirements for a student athlete," he said. "I'd say the biggest roadblock I had was trying to find time for nine hours a week of lab on top of travel and practice schedules."
But the research was worth it. Brininger said he originally came to ISU to major in biology and purse a career in medicine and become a doctor. Then, "randomly" early on one of his teammates was majoring in biochemistry and Brininger had heard that a biochemistry degree could look good on a medical school application.
"I went ahead and looked into and started down the chemistry track and really enjoyed it here at ISU," he said. "I really enjoyed the feel of the chemistry department. At first I was just taking chemistry as electives and then I shifted my major over to biochemistry."
He entered the ISU chemistry department's bachelor of science/master of science track program and discovered his love for research along the way with the help of ISU chemistry faculty.
"For all the Ph.D.'s in there I don't know a single one that I'd consider a short straw," Brininger said. "They all seem like great people and are all very involved. And it if wasn't for Dr. (Associate Professor Caryn) Evilia and her willingness to accept me into her chemistry lab­ – I was a sophomore at the time who'd only taken general chemistry – I probably wouldn't have ended up in the research track. I am very grateful to the department and how inviting they are to getting people involved."
Brininger said getting involved with research was key for him, and is for others, in pursuing a demanding field such as biochemistry.
"I think that a lot of people who start in a scientific field find the coursework is a little overwhelming and massive," he said. "It is really hard course work, but what ends up dictating whether a person is successful and that they make it in science is if they get into the labs and start research, getting a passion early. That passion is a good driving forces to survive the more difficult courses. It keeps you interested."
"That is what drove me," he continued, "from switching my mind from pursuing an M.D. to now a master's in research and to pursue a Ph.D."
He'll pursue his Ph.D. in biochemistry next fall at Colorado University-Boulder.
---
Categories:
College of Science and EngineeringGraduate SchoolUniversity News