ISU Professor Mustafa Mashal to address Pocatello City Council, Mayor Blad on Sulphur Peak Earthquake sequence, seismic risk and vulnerability in Southeast Idaho
March 13, 2019

POCATELLO – At 9 a.m. March 14, Assistant Professor Mustafa Mashal from Department of Civil and Environmental Engineering at Idaho State University will address the Pocatello City Council and Mayor Blad about the Sulphur Peak Earthquake Sequence that occurred near Soda Springs in September 2017.
The presentation will be held as part of a Pocatello Council Work Session in the Pocatello City Council Chambers located at 911 N. Seventh Ave. in Pocatello.
Mashal is an expert in structural and earthquake engineering. He will highlight ISU's research about the recent earthquakes in Southeast Idaho and consequences of a future earthquake on local buildings and civil infrastructure.
Mashal will talk about seismic risk in Idaho, vulnerability of existing civil infrastructure in Southeast Idaho, and recommendations for retrofitting, novel seismic technologies, and research needs. He will also present the ongoing research projects on seismic resilient technologies for civil infrastructure at ISU's large-scale structural testing labs.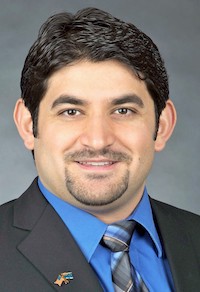 The ISU professor has studied earthquakes for many years, and was extensively involved in both academia and consulting following Canterbury earthquake sequence in Christchurch, New Zealand in 2011.
"After many years of research/industry work, I can summarize the lessons I have learned in simple quotes from two legends of seismic design, late professors Tom Paulay and Bob Park of the University of Canterbury in New Zealand. Professor Paulay said 'earthquakes do not read building codes' and Professor Park said 'you cannot control earthquakes, but you can control the structure.'"
Understanding seismic vulnerability of existing structures is important for not only life-safety, but also economic consequences to a city, state or country. Seismic hazard and vulnerability are critical aspects of earthquake engineering anywhere in the world.
"Southeast Idaho is the most seismically active region in Idaho," Mashal said. "The seismicity of the region and consequences of a large earthquake on civil infrastructure, have not been studied in detail. The active faults in Southeast Idaho pose seismic risk to towns in northern Utah and southwestern Wyoming as well. Once small towns in this region, have now expanded with increasing population, and the needs for understanding seismic risk and vulnerability have increased"
Mashal has expertise in seismic analysis, design and retrofitting of civil infrastructure.
"ISU has fantastic capabilities and expertise in large-scale testing and simulations of earthquakes on physical models of bridges, buildings and other structures," Mashal said.
Mashal said that most people do not know ISU's capability in structural and earthquake engineering. ISU has the largest structural testing facility in the Idaho that was built by students and faculty recently. The university has several projects related to seismic research and resiliency of civil infrastructure. ISU's Structural Dynamics Laboratory has unique equipment, including shake tables, that could be used for simulations of earthquakes.
Idaho State University, a Carnegie-classified doctoral high research activity university and teaching institution founded in 1901, attracts students from around the world to its Idaho campuses. At the main campus in Pocatello, and at locations in Meridian, Idaho Falls and Twin Falls, ISU has nine Colleges, a Graduate School and a Division of Health Sciences that together offer more than 250 certificate and degree programs. More than 12,000 students attend ISU. Idaho State University is the state's designated lead institution in health professions.
---
Categories: