ISU graduates March through the Arch May 3
April 29, 2019

POCATELLO – The Idaho State University 2019 Graduate Salute March through the Arch will be held beginning at noon May 3 at the Swanson Arch located on the ISU Pocatello campus between Frazier Hall and the Physical Sciences Building.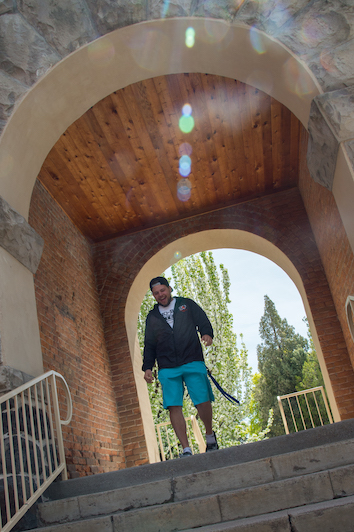 "This is an exciting and popular activity for our graduates," said Allyson Johnson, special events coordinator for the ISU Office of Marketing and Communications. "It's a great opportunity for members of the campus community, as well as family and friends of graduates to celebrate, socialize and get some good pictures."
Graduates will process through the Swanson Arch and then proceed to a barbeque hosted by the Office of the President.
The "March through the Arch" tradition was started in 2000. A spirited ceremony takes place each fall when new students pass through the arch southward into campus. In May, graduates look to the future by passing northward back through the arch symbolizing their exit from the university and entrance into new life adventures.
Swanson Hall, constructed in 1902, was the first building at the Academy of Idaho, now Idaho State University. The structure was razed in 1973, but the Swanson Arch, the building's entrance, was saved and now stands on campus.
Idaho State University, a Carnegie-classified doctoral high research activity university and teaching institution founded in 1901, attracts students from around the world to its Idaho campuses. At the main campus in Pocatello, and at locations in Meridian, Idaho Falls and Twin Falls, ISU has nine Colleges, a Graduate School and a Division of Health Sciences that together offer more than 250 certificate and degree programs. More than 12,000 students attend ISU. Idaho State University is the state's designated lead institution in health professions.
---
Categories: