ISU Communiversity's 10th annual "Welcome Back Orange and Black" set 4-7 p.m. Aug. 19
August 13, 2019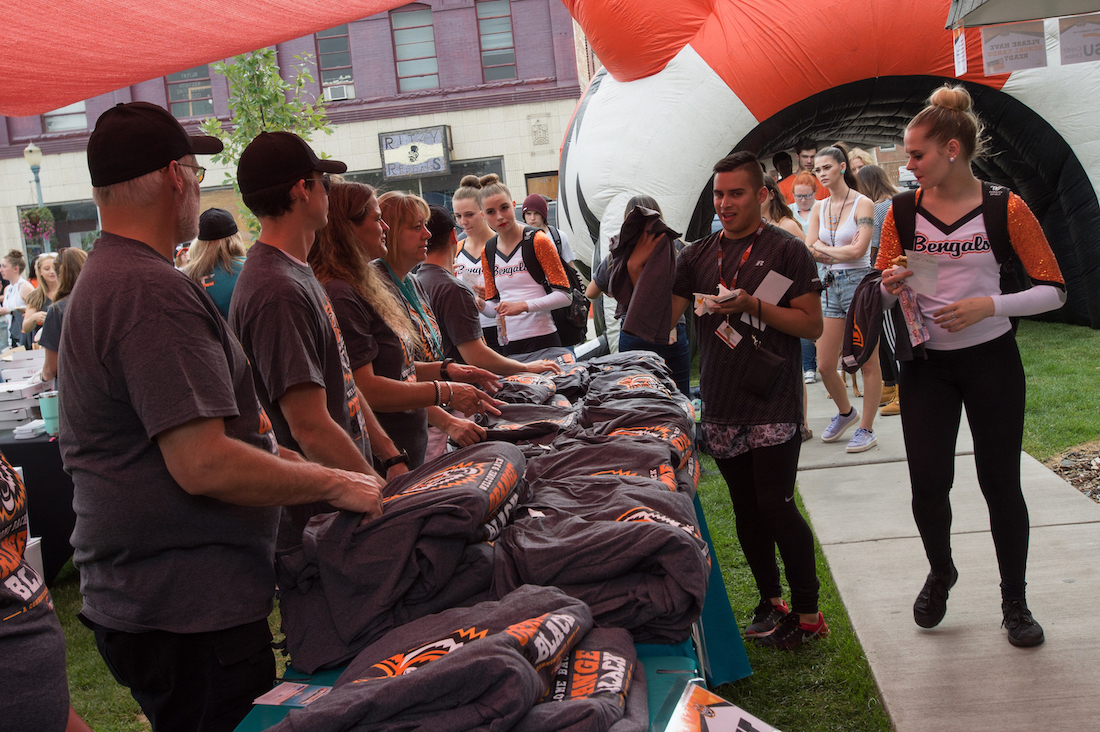 POCATELLO – Idaho State University students will again have a chance to win great prizes and enjoy free food, music and a variety of booths and entertainment during the 10th annual Welcome Back Orange and Black from 4 to 7 p.m. Aug. 19 at the Old Town Pocatello Pavilion.
Welcome Back Orange and Black, held every fall, is one of two ISU CommUniversity events held annually to celebrate the partnership between the University and community; the other is Celebrate Idaho State held on campus each spring.
"This is one of the highlights of the year for the entire community, welcoming back Idaho State University students, faculty and staff to our community and campus," said Stephanie Palagi, event organizer and executive director of Old Town Pocatello. "This year's event features some new fun for participating students along with some great prizes and games."
The main prize drawing will be held at 6:15 p.m. for students who present their Bengal ID card at the celebration. Participants must be present to win.
Buses will bring students downtown, and once the students arrive, they'll be given a free Welcome Back T-shirt donated by the ISU Credit Union. Pocatello Regional Transit and ISU buses will leave from Reed Gymnasium parking lot and will drop off students on Main Street in front of the Old Town Pavilion.
KORR 104's on-air personality Kelly Martinez will be the master of ceremonies for the event, which will feature a watermelon-eating contest and various other interactive games and contests that audience members can participate in. The Bengal Cheerleaders, ISU athletes, Benny the Bengal, ISU Marching Band and the Bengal Dancers will be at the event to help entertain and welcome the crowd.
Organizers are expecting dozens of booths manned by businesses and restaurants excited to present their products and services to our ISU Bengals. The entire Old Town Pocatello Pavilion area and surrounding streets will be full of food samples, games, drawings and special coupons students can use to experience the business communities of Pocatello and Chubbuck.
Students can win, through a random drawing, prizes including a mountain bike, flex pass meal tickets, gift certificates and parking passes.
The Idaho State Journal, Idaho State University, City of Pocatello, Old Town Pocatello, Inc., and the Pocatello-Chubbuck Chamber of Commerce will host the event.
Businesses and residents are encouraged to "Paint the Town Orange and Black," before Aug. 19. Decorations can remain up through Oct. 7, the start of ISU Homecoming week. Participants can display ISU colors in storefronts or at their homes.
For more information on Welcome Back Orange and Black activities, contact Stephanie Palagi at spalagi@oldtownpocatello.com or visit www.isucommuniversity.com/home/welcome-back-orange-black.
Idaho State University, a Carnegie-classified doctoral high research activity university and teaching institution founded in 1901, attracts students from around the world to its Idaho campuses. At the main campus in Pocatello, and at locations in Meridian, Idaho Falls and Twin Falls, ISU has nine Colleges, a Graduate School and a Division of Health Sciences that together offer more than 250 certificate and degree programs. More than 12,000 students attend ISU. Idaho State University is the state's designated lead institution in health professions.
---
Categories: