ISU Athletic Director Pauline Thiros to be a featured speaker at "How Far We've Come Event" celebrating the 100th anniversary of 19th Amendment
May 28, 2019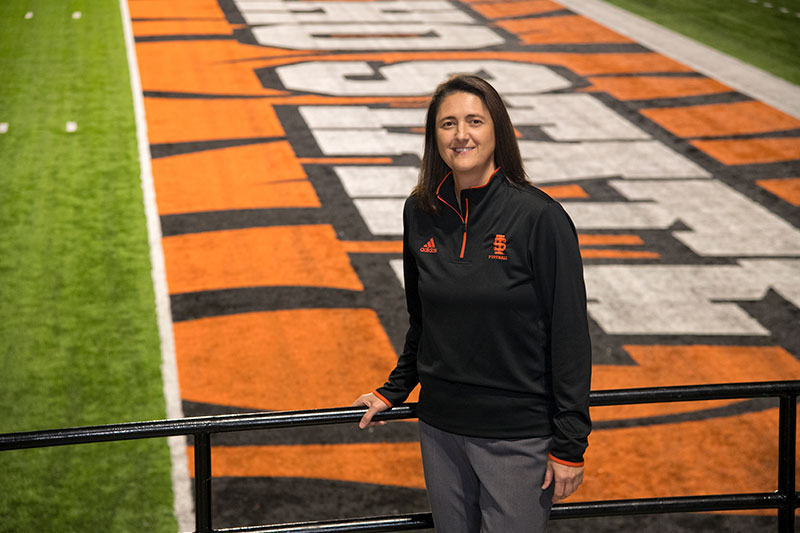 POCATELLO – Idaho State University Athletic Director Pauline Thiros will be one of five speakers June 4 at University Place in Idaho Falls at the Alturas Institute's Conversations with Exceptional Women on the topic of "How Far We've Come" celebrating the 100th anniversary of the congressional passage of the U.S. Constitution's 19th Amendment.
The event begins with a reception at 5:30 p.m., followed by dinner and a program.
The 19th Amendment guaranteed women the right to vote.
Other event speakers include Karen Crouse, sports writer for the New York Times; Noel Bahktian, director of the Center for Advanced Energy Studies; Heather Steele, oncology specialist; and Caroline Heldmen, executive director of The Representative Project.
Thiros was named ISU athletic director this March. She as enjoyed a successful 23-year-career at ISU. Thiros started out as assistant volleyball coach and recruiting coordinator in 1995, following a standout playing career. She received her Bachelor of Science degree in health care administration from ISU in 1995, and her Master of Education degree in athletic administration in 1999. Her efforts on the court earned her an induction to the ISU Sports Hall of Fame in 2006.
Following her years as a collegiate coach, Thiros was recruited into a development position at Idaho State, and became a skilled leader in the Office of Advancement. She served as director of major gifts and planned giving, director of Alumni Relations, executive director of development, the Centennial Capital Campaign director, director of Alumni Relations, and the associate vice president of development where she oversaw a staff of 15 professionals, an annual budget of $2.6 million, and was responsible for approximately $12 million in annual fundraising revenue for the ISU Foundation.
Tickets to the event are $35.
For more information, visit www.althurasinstitute.com or call Dave Adler
President, The Alturas Institute, 208-313-6554.
---
Categories: