Idaho State will award more than 300 degrees in Treasure Valley commencement ceremony May 6
May 1, 2019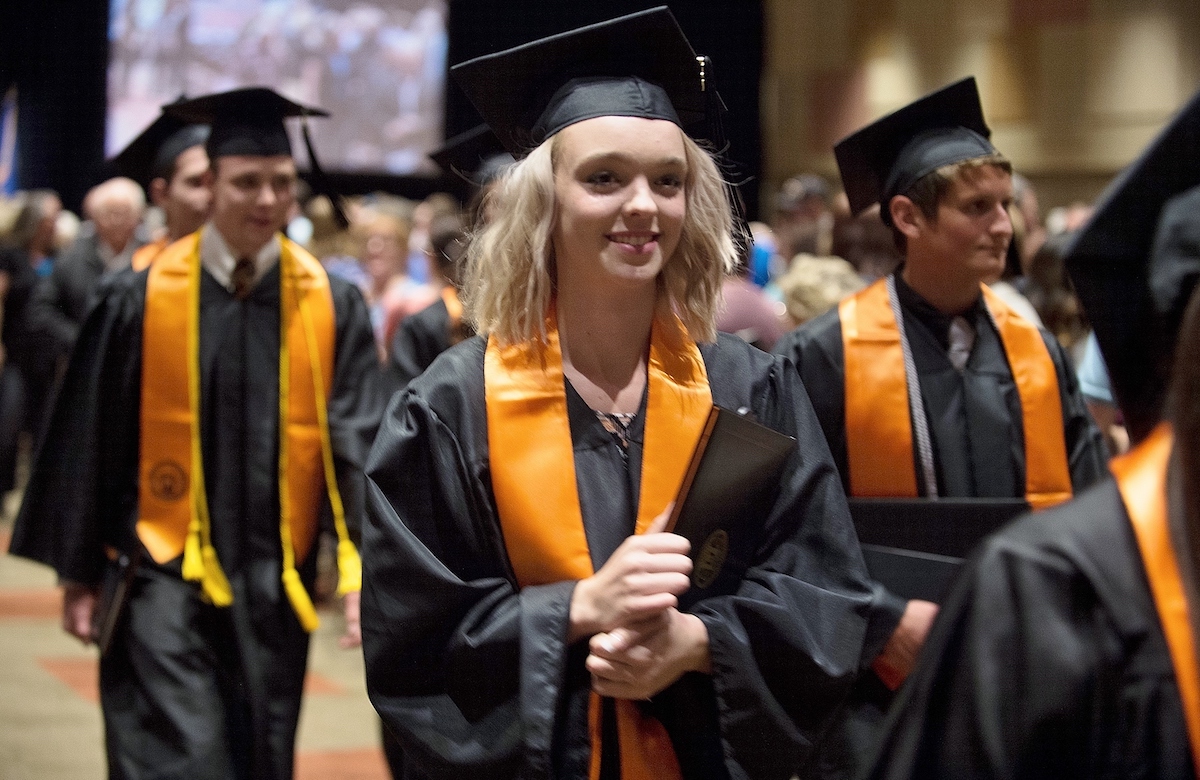 BOISE – Idaho State University will celebrate the achievements of hundreds of Treasure Valley students at commencement May 6 – with a record 329 students eligible for degrees and certificates, including 81 Renaissance High School students who will receive associate degrees in general studies through a partnership with ISU and the West Ada School District.
The ceremony begins at 6 p.m. at CenturyLink Arena, 233 S. Capitol Blvd.
"Commencement marks the culmination of years of determination, hard work, and perseverance. Our graduating students have received an education that will better their lives and improve the communities in which they reside. I am so proud of their accomplishments and look forward to celebrating their successes," said ISU President Kevin Satterlee, who will confer the degrees.
Campus administrators will recognize students for academic excellence, including Whitney Heuer, recipient of the 2019 Alumni Association Outstanding Student Achievement Award representing ISU's College of Nursing. Heuer will receive a Bachelor of Science degree in nursing from Meridian's rigorous accelerated nursing program.
Here's the breakdown of degrees and certificates.
Graduate and professional degrees-133 total:
One (1) Doctor of Philosophy (Nursing); Seven (7) Doctor of Nursing Practice; Six (6) Doctor of Audiology; 32 Doctor of Pharmacy; Eight (8) Master of Counseling; Two (2) Master of Business Administration; Two (2) Master of Physical Education/Athletic Administration; 36 Master of Physician Assistant Studies; Three (3) Master of Public Health; 25 Master of Science (Speech-Language Pathology); Three (3) Master of Science (Human Resource Development); One (1) Master of Science (Medical Laboratory Science); Two (2) Master of Science (Nursing); Three (3) Master of Health Education; One (1) Master of Education (Instructional Design and Technology); and one (1) Master of Education (School Psychology)
Undergraduate degrees and certificates-196 total:
Thirty five (35) Bachelor of Science in Nursing; (15) Bachelor of Science (Communication Sciences and Disorders); (15) Bachelor of Science (Medical Laboratory Science); (8) Bachelor of Science (Sign Language Interpreting); (16) Bachelor of Science (Health Science, Health Education, Psychology, Fire Services Administration, Emergency Management and Elementary Education); One (1) Bachelor of Arts (General Studies); twelve (12) Associate of Science (Paramedic Science, Emergency Management); 13 Certificates (Paramedic Science, County Paramedic); and 81Associate of Arts (General Studies).
ISU-Meridian has conferred more than 2,300 degrees since 2009. The Meridian campus offers more than 35 graduate, undergraduate and online programs. Most are in the health sciences. Visit https://isu.edu/meridian/.
---
Categories: