Idaho State University's Katelyn Macdonald: the next generation of physician assistant
May 1, 2019

When Katelyn Marquez Macdonald was 10 years old, she loved watching shows on the Discovery health channel and playing with bandages her mother brought home from the medical supply office where she worked.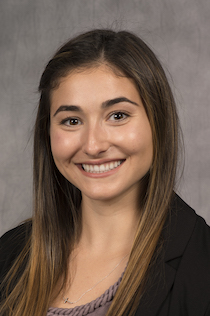 When the preteen learned she'd have a new sibling, she took an active interest in her mom's pregnancy and was thrilled her parents allowed her in the delivery room.
"It was so exciting. That was the exact moment I knew I wanted to be in the medical field...when my brother was born," Macdonald said.
Fourteen years later, Macdonald is on the crest of achieving her dream. In August, she'll complete her master's degree in physician assistant studies. A physician assistant or P.A. is a licensed professional who provides medical care under the supervision of a physician. Macdonald says the profession is a perfect fit for her.
"As a P.A., there are so many opportunities to work in various fields of medicine," she said. "You have the opportunity to work on a team with other health professionals to provide the best care for the patient."
Macdonald was born 24 years ago in the Long Beach area of southern California where she excelled in academics and high school softball. When it came time to graduate, colleges came courting, including ISU. In 2011, Macdonald paid a visit to campus—planning to use the opportunity to hone her interviewing skills as she checked out other schools.
"Then I set foot on the campus and I thought 'I can't imagine myself at any other college because this (place) is awesome," she said. She loved the beauty of the mountains, the friendliness of the community and the quiet pace of life.
In 2012, Macdonald enrolled at ISU, playing four years on a softball scholarship and earning an honors bachelor's degree in medical laboratory science. Associate professor of sport science, Dani Moffit, says Macdonald was a shining star on and off the playing field.
"Kate has one of the sunniest personalities I know. This is a woman who seems to find the good in every day and the positives in all she does," said Moffit, who heads ISU's master's program in athletic training.
After completing her undergraduate studies, Macdonald enrolled in the two-year physician assistant studies program and was awarded a Latino track scholarship, which will enable her to earn a graduate certificate in Spanish for health care professions in addition to her master's degree.
"The certification has been an amazing opportunity and one of the reasons I chose to do my P.A. studies at ISU," she said, noting many states—including Idaho—are in great need of bilingual medical care providers.
Several years ago, ISU's physician assistant studies program was awarded a $1.1 million grant from the federal Health Resources and Services Administration to address the need for bilingual health providers in high-density Latino areas. Macdonald's track requires her to do five of her eight clinical rotations at sites in underserved Latino communities, such as clinics operated by Terry Reilly Health Services. Macdonald just wrapped up her pediatrics rotation at the Terry Reilly clinic in Nampa and will conclude rotations in psychiatry and women's health. Her previous rotations include surgery and urgent care through Saint Alphonsus Regional Medical Center in Boise and North Canyon Medical Center in Gooding.
"We are so happy to have Kate. She brings compassion and empathy to our field and is helping so many patients in all areas of our state," said Paula Phelps, associate professor, department chair and program director of ISU's physician assistant studies program.
After graduation, Macdonald would like to practice in Idaho and the Treasure Valley—preferably in an emergency room setting with a focus on acute care.
"That's my passion," she said.
To learn more ISU's physician assistant studies program and Latino Health Track Scholarship opportunities, visit https://www.isu.edu/pa/.
---
Categories: