Idaho State University's College of Pharmacy selects new dean Walter Fitzgerald, Jr.
May 24, 2019

He has nearly four decades of teaching and leadership experience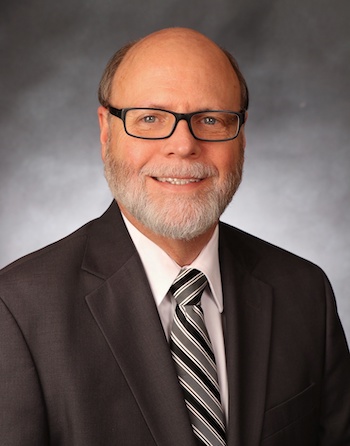 POCATELLO ­– The Idaho State University Kasiska Division of Health Sciences has announced that Walter Fitzgerald, Jr., as the new dean for the College of Pharmacy.
Fitzgerald joins the College of Pharmacy from Knoxville, Tennessee with almost four decades of graduate and undergraduate teaching, and leadership experience. He taught at multiple universities in the areas of pharmacy practice; pharmacy and health care law and ethics; current issues and trends; and more.
He most recently served as the founding dean and professor for the South College School of Pharmacy in Knoxville. There, he was responsible for creating the School of Pharmacy curriculum and admitting its first students and also leading his team toward full accreditation by the Accreditation Council for Pharmacy Education. The school was accredited in 2017 for four years, which was the maximum for a new school at the time.
Fitzgerald has authored and co-authored seven peer-reviewed articles and more than 150 articles for various medical journals and publications. He has also written dozens of textbook chapters and given numerous presentations on topics such as "HIPAA Overview," "Responding to the Opioid Crisis - Law, Policy, Practice," "Substance Abuse and Prescribing" and others.
Fitzgerald will take the helm as the ISU College of Pharmacy's 12th dean on June 30, leading operations at all three campus locations in Pocatello, Meridian and Anchorage, Alaska. He comes to ISU with previous experience in administration and teaching at multiple-site operations for the University of Tennessee Health Science Center in Memphis, with a satellite campus location in Knoxville.
Thomas Wadsworth, assistant dean for Alaska programs and chair of the dean search committee, said the group has been working since September to select a new dean, after Paul Cady announced his retirement from the position.
"The committee is excited to welcome Walter Fitzgerald as our newest dean. We look forward to his leadership and enhancement of our school's renowned reputation for a century of excellence in pharmacy education and innovation," Wadsworth said.
In the first six months in his new position, Fitzgerald says he plans to focus his efforts on getting to know the faculty, staff and students at all three campus locations by meeting with them individually and in open forums.
He also plans to provide continued support for the College of Pharmacy's Centennial Celebration and Capital Campaign, as the pharmacy education program celebrates its 100th year in 2020. The campaign includes a $15 million goal that will support scholarships, equipment, research and facilities improvements at the college. Fitzgerald says he will also work closely with pharmacy practice sites providing experiential education in Idaho and Alaska, along with the leadership of the pharmacy profession in Idaho, including:
• Idaho State Pharmacy Association;
• Idaho Society of Health-System Pharmacists;
• Idaho State Board of Pharmacy; and
• Health care and medical associations in Idaho
With a focus on interprofessional education and practice, Fitzgerald is eager to begin his leadership role at the College of Pharmacy.
"Many opportunities exist for the College of Pharmacy," he said. "We can contribute to improving health care delivery in rural areas and participate in programs that support Idaho residents wanting to improve their health. We can partner with other health care leaders to develop interprofessional education programs where health professions students learn about, from and with each other."
He will be based in Pocatello, with offices at Meridian and Anchorage.
---
Categories: