Idaho State University Family Medicine Residency welcomes eight physicians, one to be inaugural member of Rexburg Rural Training Track
March 27, 2019

New resident interns have a shared focus for promoting medical care for rural and underserved populations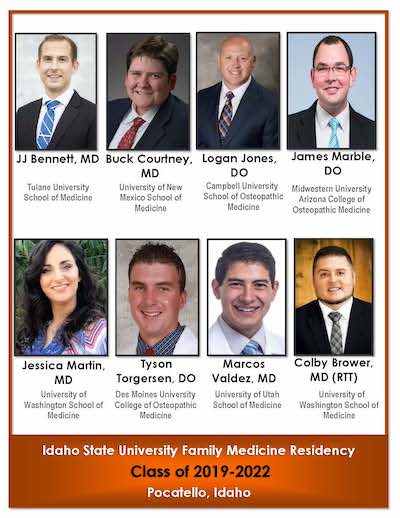 POCATELLO - The Idaho State University Family Medicine Residency Program will soon welcome a new class of resident physicians - seven in Pocatello and one who will eventually fill the brand-new Rexburg Rural Training Track seat.
The group of physicians will begin their residency internships in June.
All eight residents will begin their specialized family medicine training at ISU's base program, located in Pocatello. One of the residents, Dr. Colby Brower, will move to Fall River Family Medicine and Urgent Care after his first year, and then complete two years of training there. The ISU residency program received approval and partial funding to expand with one residency slot in Rexburg in October 2018, and hopes to add another slot in the coming years.
Dr. Austin Gillette, the site director in Rexburg, is an ISU alumnus, as is Dr. Kelly Dustin, one of the core faculty. Rachel Gillette is the site-coordinator in Rexburg. All three individuals were hired specifically for this endeavor.
• JJ Bennett is from Tulane University School of Medicine. He hails from Maple Grove, Minnesota. Bennett has come to ISU to train as a rural family physician. Bennett currently volunteers at a medical clinic with a focus on the homeless, undocumented and underprivileged. He has a love of the outdoors, which blends well with his rural focused ambition. He enjoys woodworking, camping, reading and kayaking, having completed a six-week solo journey from Seattle to Alaska.
• Buck Courtney is from the University of New Mexico School of Medicine. Courtney is from Las Cruces, New Mexico. He comes to ISU for full-spectrum family medicine training for underserved populations. He would also like his future practice to include wilderness medicine, search and rescue and disaster relief. Courtney enjoys adventure photography, cross-country skiing and boxing, having been a former Golden Gloves boxer.
• Logan Jones comes to ISU from Campbell University School of Medicine. He hails from a cattle ranch in Rigby. Jones has drawn inspiration to practice family medicine from Rigby's own physician, who cared for three generations of its citizens. Medicine is a second career for Jones, who was a contractor for many years. Jones enjoys outdoor recreation, architecture, building and woodworking and traveling to new places with this family.
• James Marble comes to ISU from Midwestern University Arizona College of Osteopathic Medicine. Marble is from Layton, Utah. His interest in training in family medicine comes from the inspiration he receives from working with patients and their families, wanting to support them throughout their lives. Marble has a passion for cooking, providing extravagant meals for his friends and family, and is a competitive board gamer.
• Jessica Martin comes from the University of Washington School of Medicine in the Targeted Rural and Underserved Track program, which helps to prepare medical students for working in underserved rural areas and small cities throughout Washington, Wyoming, Alaska, Montana and Idaho. Martin is from Lewiston, Idaho. She enjoys the company of good friends and her family, and she has a love for theater, including performing, set design and, especially, directing.
• Tyson Torgersen comes from Rocky Vista University College of Osteopathic Medicine. Torgersen hails from Escalante, Utah. Escalante is a 75-minute drive from the nearest hospital and was without its medical clinic for two to three years due to fire, so Torgersen has a unique perspective and direct experience of what an underserved, rural community can at times endure without local medical care. Torgersen enjoys a variety of hobbies, including woodworking, rebuilding small engines and motorcycles, outdoor recreation and long-range rifle shooting.
• Marcos Valdez is from the University of Utah School of Medicine. Marcos hails from Sandy, Utah. He comes to ISU to train for full-spectrum, underserved, rural family medicine. He has a heart for free clinics, caring for and meeting the needs of those with little or no resources. "He who has health has hope, and he who has hope has everything" encapsulates the spirit of one such clinic where he has volunteered. Valdez enjoys outdoor recreation, bike polo and car road rallying.
• Colby Brower is the program's first resident to match into its Rexburg Rural Training Track, which means he will spend his first year in Pocatello, and his second and third years in Rexburg. He comes to ISU from the University of Washington School of Medicine and is also in the TRUST program, which helps to prepare medical students for working in underserved rural areas and small cities throughout Washington, Wyoming, Alaska, Montana, and Idaho. Brower is from Saint Anthony. Brower enjoys outdoor recreating, team roping, baking and good movies.
Since its creation 25 years ago, the ISU Family Medicine Residency has graduated 130 physicians, half of whom are now practicing in Idaho. These graduates provide care for 120,000 Idahoans.
---
Categories: