Idaho State University to host International Night on March 9
March 1, 2019

POCATELLO – Idaho State University's International Student Association will host International Night on March 9 at 6 p.m. in the Pond Student Union Ballroom.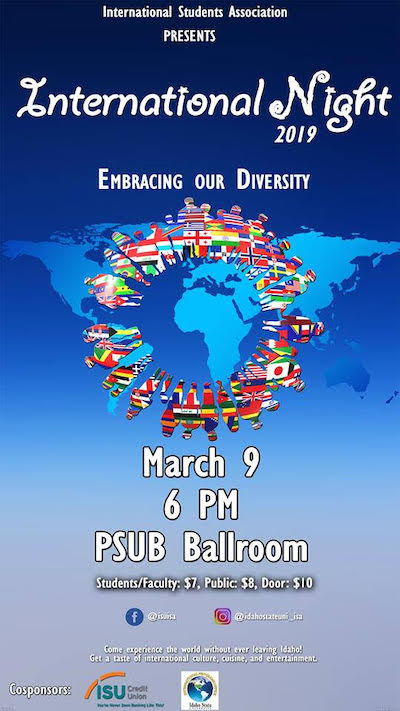 The theme of this year's International Night is "Embracing Our Diversity." Countries from all over the world will be represented at this event, but emphasis will be placed on countries where current ISU international students are from.
International Night will include a flag show, various performances by international students and different food from around the world, including cuisine from Nepal, Latin America, Ireland and Africa.
Two separate raffles will also be held. This year's mega raffle prize is a 4k smart TV. A portion of the proceeds raised from the raffle will be donated to Benny's Pantry.
Tickets are available for purchase at the Pond Student Union and Rendezvous. Ticket prices are $7 for students and faculty, $8 for the public and $10 at the door.
For more information, contact the International Student Association President, Subigya Shah, at shahsubi@isu.edu.
---
Categories: