Idaho State University College of Education to host Education Career Fair on March 14
February 27, 2019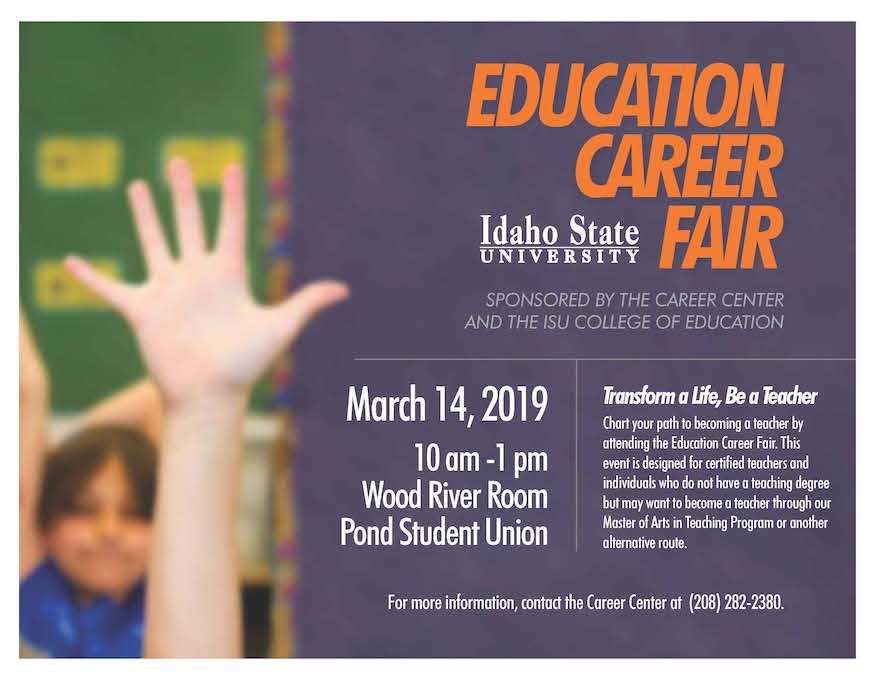 POCATELLO – Idaho State University's College of Education will host an Education Career Fair on March 14 from 10 a.m. to 1 p.m. in the Wood River Room in the Pond Student Union.
This event is designed for teachers and candidates seeking a teaching placement for the 2019-2020 academic year. Information will also be available for individuals who do not have a teaching degree but may want to become a teacher through one of ISU's routes to Alternate Certification, including the Master of Arts in Teaching Program.
Though teaching is such a vital job, there is a major teacher shortage in Idaho. ISU's College of Education has made it a priority to help address this teacher shortage by preparing and supporting teachers for Idaho classrooms.
"We are hoping to help the shortage by providing an opportunity for school districts looking for teachers and those in search of a teaching position to come together," Amy Bytof, outreach and marketing coordinator for the College of Education, said.
The College of Education is actively engaged in teacher recruitment, retention, and preparation. ISU offers graduate degrees to support certified teachers and recently completed a major program revisions process that will allow teacher candidates to complete their teaching degree much quicker and at a reduced cost.
"Education forms the basis of all other careers, so being a teacher is such an important and meaningful career," Bytof said. "Teachers are so important because everyone, at some point in their life, will have a teacher that believes in them, inspires them, and helps to shape them into a contributing citizen of our state."
The Education Career Fair will include more than 20 school districts across southern and eastern Idaho. All those searching for a career in education are invited.
For more information on the Education Career Fair, contact Amy Bytof at bytoamy@isu.edu.
---
Categories: