Idaho State University College of Business graduate students return from International Collegiate Business Strategy Competition as overall winners
May 1, 2019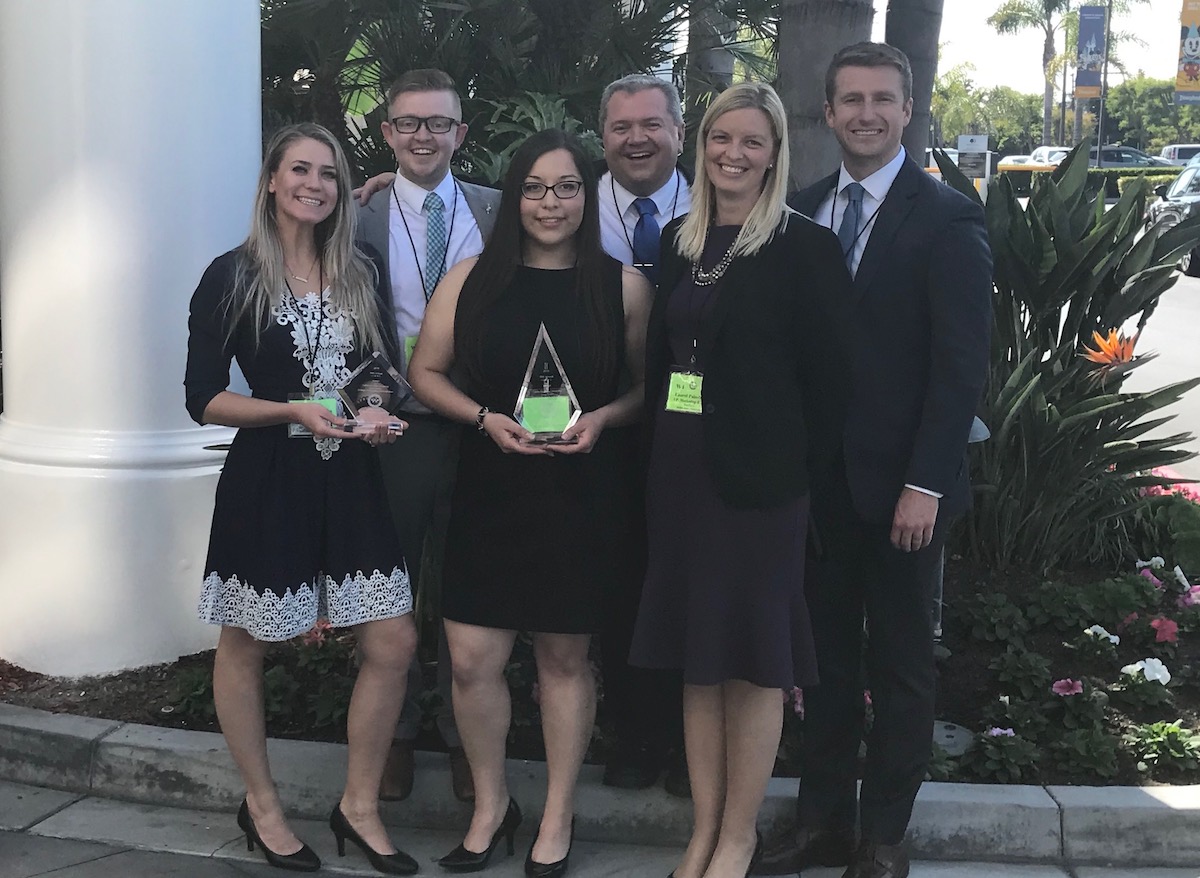 POCATELLO – Idaho State University College of Business graduate students competing in the 55th annual International Collegiate Business Strategy Competition (ICBSC) returned from Anaheim, California on Sunday with trophies for first place in Overall Performance and Best Written Documents categories.
This was ISU's fifth year competing in the competition, which over the years has brought teams from throughout the world. As part of the challenge, student teams work to develop their own product complete with a comprehensive business plan. Then each team member works in executive roles to manage their company on a global scale through a computer simulation. The program simulates five years of 60 quarterly decisions in areas of production, finance, marketing and human resources.
Students begin the competition in February with quarters condensed down to weekly decisions, and finish with an intense 48 hours in Anaheim. During this time, students made quarterly decisions every 90 minutes and presented their annual report to a room of high-level judges.
This year's team consisted of students with a diverse age range, first-generation college students, and ISU's first online student participant. The students included, Guy Patterson, chief executive officer; Vanesa Fontes Nava, chief financial officer; James Cooper, chief operations officer; Quinton Cheney, chief analytics officer ; Laurel Palmblad, vice president of marketing and human resources; and Elisa Bringhurst-VanOrden, controller.
"This competition was great practice for working as a team with members of different age groups and backgrounds," said Cooper in relation to the diversity of the group. "But unlike group work in a class, the judges didn't care about anything but results and team synergy, which is much more accurate to a professional setting."
The team runs under the guidance of co-advisors Dawn Konicek, an accounting professor, and Alex Bolinger, management professor. For Bolinger, the groups varying perspectives played an interesting role in their processes.
"The group's success is a tribute to the potential, if sometimes elusive, benefits of leveraging diverse perspectives in teams," Bolinger said.
In addition to the opportunity to share multiple perspectives in their decision-making processes, the team also benefitted against their competition due to sticking with their original mission and vision.
"We were unique in that we remained consistent in our plan," Cooper said. "Many other teams would try to move around a lot to try and gain more sales. We made the goal to provide our product at a low price and took the steps to make this goal profitable. As a result, our decision-making process was made easier because we already knew what we wanted to do for the most part."
Although teams in the competition will often have very different products, the simulation is run as though they are all competing in the same industry and market. Each team starts out with a product priced around $10, which can fluctuate depending on their decisions. ISU's team was unique in that they were able to keep that price point of their product just below $10, which in this case was an affordable solution for clean water consumption. They named their company PurTaste.
"We wanted a product that could provide clean water to anyone in the world at an affordable price and on an individual level," Patterson said. "Our hypothetical product actually tastes like water, as opposed to chlorine and can be used in a single water bottle."
Throughout the competition, the team was also able to regulate high employee retention levels in their business.
"We found that the more money we spent on employee satisfaction and benefits, the less likely we were to lose them," said Palmblad, who joined the group from Richland, Washington, where she is completing her Masters of Business Administration from ISU online while raising two young girls.
Overall, this year's competition proved to be one of the most successful yet. And it provided students with not only the opportunity to apply all of their knowledge into a nearly real-world setting, but also experience the work of teams with varying perspectives even from remote locations.
Bolinger noted that there are now 29 alumni of ISU's ICBSC teams employed from Vancouver, British Columbia, to Detroit, St. Louis to Phoenix, and throughout the Intermountain West.
"They all make us very proud," Bolinger said.
The ICBSC represents another unique real-world opportunity for College of Business graduate students in which ISU is the only university in the states of Idaho, Utah, Montana and Wyoming that participates in the competition, thanks to generous support from Idaho Central Credit Union.
---
Categories:
College of BusinessGraduate SchoolStudent LifeUniversity News