Idaho State University alum steps up to fund Red Hill "I" as construction continues
August 12, 2019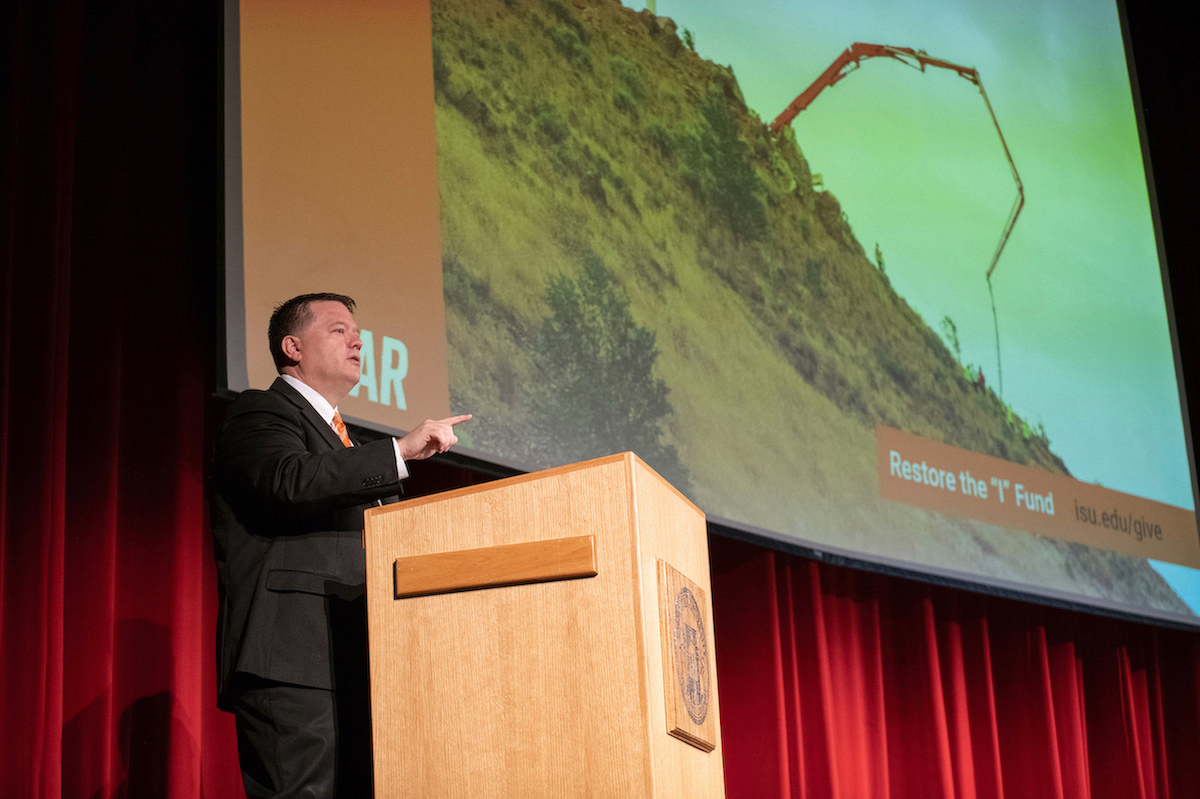 POCATELLO – For generations, the story of the Rice family has been interwoven with the story of the Bengal family.
Steve Rice's father, the late Dr. Lawrence H. Rice, worked at Idaho State University for 34 years, first as an English professor, and, eventually, as an academic vice president. Steve, his wife Cinthia, and his sisters Caryln Rice and Patricia Hemsley, graduated from Idaho State. Steve remembers visiting the University when he was young, and the "I" on Red Hill has always stood out as a memory.
Now, Rice and his family are giving back by completely funding the construction of a new "I" on Red Hill.
"The 'I' is always one of those things that I've always identified with as an icon of the university, along with Holt Arena and the Stephens Center, that symbolizes the important bond between the University and the community," Rice said. "Our family was excited last fall when we heard that President Satterlee was dedicated to the project, and we wanted to support it."
Rice said his family's gift was unsolicited and that he knew even without his family's support the "I" would be built.
"We did it because we believe in the university as an institution that has had a great effect on every one of my family, and we support the direction (ISU President) Kevin has taken the university," Rice said. "We are thrilled we can make this kind of gift."
The cost of rebuilding the "I" is approximately $225,000.
"I am overwhelmed by the generosity and support of the Rice family," said Kevin Satterlee, ISU President. "This contribution will become integral to the legacy and history of Idaho State University. The demonstration of support for this project will forever honor a beloved faculty member, Lawrence H. Rice. I could not be more grateful and cannot wait to stand with the Rice family at the dedication ceremony."
To celebrate the return of the "I," and to acknowledge the generosity of the new gift, Satterlee announced a 60-day campaign beginning Monday, Aug. 12, with all money raised benefiting student scholarships. Those interested can donate at www.isu.edu/give.
Steve graduated in 1980 with two bachelor's degrees from the College of Business, one in marketing and the other in management. His wife, Cinthia, also graduated from ISU with a degree in communications. Steve and Cinthia now own and manage Rocky Mountain Hospitality from their home near Coeur d'Alene, managing 12 motels and other properties. Steve's mother, Clarice, still lives in Pocatello.
Steve's two sisters also attended ISU. Caryln Rice, earned a bachelor's degree and a master's degree in adult learning, and is retired and lives in Pocatello. His other sister, Patricia Hemsley, earned an education degree from ISU and teaches fifth grade in Pocatello.
"We all received a great education from ISU and have had successful careers and that is why we are comfortable making this gift," Steve said. "We believe there is no greater solution to the challenges facing the United States than to getting a good education."
Construction on the "I" is well underway. Last week, initial work on the "I"s foundation began. This week, workers are expected to install rock anchors for the foundation.
"We're moving forward on our goal to have it done by Homecoming Week in early October, that is our planned schedule, but there are many variables that can affect the construction schedule, including lead times for materials and climate conditions," said Bruce Savage, chair and associate professor of the ISU Department of Civil and Environmental Engineering.
The Red Hill "I" was designed by students in the ISU Department of Civil and Environmental Engineering with help from faculty who are working closely with ISU Facilities Services and the original engineering firm, A&E Engineering. Surveying was completed by ISU's Civil Technology program. The local construction company, Starr Corporation, is building the campus icon.
"The students and faculty have done an outstanding job," Savage said. "The project hasn't been without its challenges but that is normal for most projects, especially one built on a 34-degree slope. It's not an easy place to do construction, but the new 'I' is going to be around a long time. It's going to be tied down to the bedrock of the hill. In 100 years it's not going anywhere."
---
Categories: