Idaho State University - Meridian Sign Language Studies receives full accreditation

McKenzie Dalley, KDHS Career Path Intern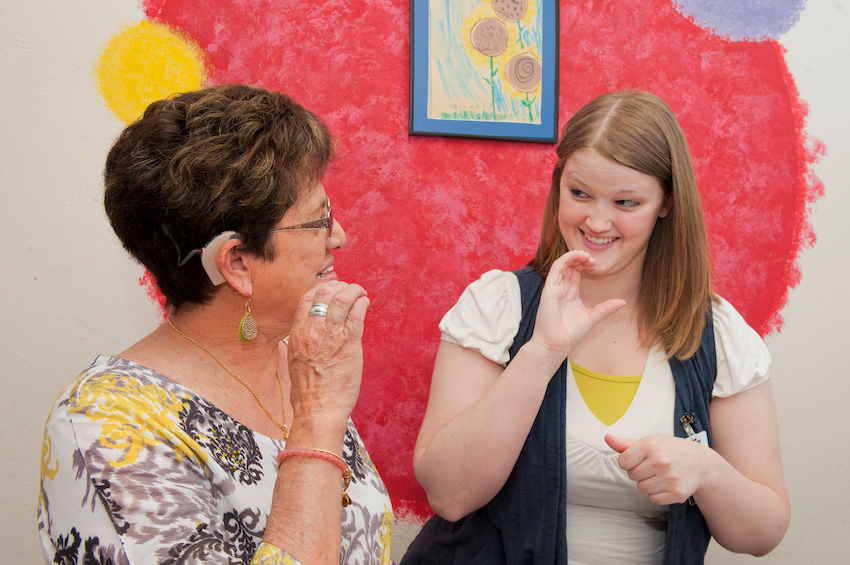 Accreditation will help ISU meet the needs of Idaho's deaf and hard of hearing community.
MERIDIAN – Idaho State University's sign language program is now one of only a handful of accredited programs in the United States.
ISU offers two different degrees in sign language studies. Currently, an Associate of Science in Sign Language Studies is available at the Pocatello campus, and a Bachelor of Science in Sign Language Interpreting is available for ISU-Meridian students as well. The program is now one of just 15 that are fully accredited by the Commission on Collegiate Interpreting Education.
Members of the leadership team within the program believe that it is essential to have both deaf and hearing interpreters as faculty.
"The accreditation will benefit students and attract highly qualified applicants, and assures that the program we're providing is meeting the needs of of our students. It also gives us access to grant opportunities," said Elizabeth Schniedewind, the program director,.
In 2013, the program formed a community advisory board in the Treasure Valley area made up of community members from the school district, video relay center, alumni, executive director for the Idaho Council for the Deaf and Hard of Hearing and members of the deaf and hard-of-hearing community. This board serves as a guiding force for shaping ISU curriculum, passing standards and also provides mentoring to the students. Schniedewind said the feedback from the advisory board is very valuable to the program and many of their suggestions for change have been implemented, in accordance with accreditation standards.
The typical cohort is usually 12-15 students in their junior and senior years. The average student to faculty ratio is 12:1. ISU has agreements with College of Western Idaho, College of Southern Idaho, North Idaho College, and Boise State University for students to complete their first two years before transferring to ISU for the remainder of the program.
Students accepted into the bachelor's program must have two years of American Sign Language (ASL) coursework or take a challenge examination to meet ISU's ASL admissions standards. They must also have a GPA of 2.75 or above, and have either an associate degree or have completed around 60 credit hours. Students' skills are evaluated using an assessment mechanism to make sure they are placed in the appropriate program. All students also complete an eight-week internship before graduating, providing supervised interpreting services in community or educational settings.
When students finish the program they typically go on to receive their national certification as generalist interpreters, but they can pursue further specialist certifications to be able to interpret in specialized areas such as working with deaf or blind individuals, or in legal and medical settings.
The nation is experiencing a shortage of interpreters, the need for them is rising due to the increasing need for video relay service (VRS) interpreters. A VRS interpreter usually works in a call center and interprets phone and video calls between deaf and hearing callers. There are over 50 call centers that employ relay professionals throughout the United States.
In the last three years, ISU-Meridian has had more students apply to this program than there is space for, further exposing this workforce need.
"It is a testament to ISU to know that our faculty qualifications and institutional support were specifically noted as factors in receiving this accreditation," Schniedewind said.
Being recognized by a national accreditation body will help ISU ensure continued opportunities for our students to work hand in hand with the deaf and hard of hearing community.
---
Categories:
College of Rehabilitation and Communication SciencesUniversity News