Idaho State Treasure Valley anatomy labs host one-of-a kind workshop for teachers
August 12, 2019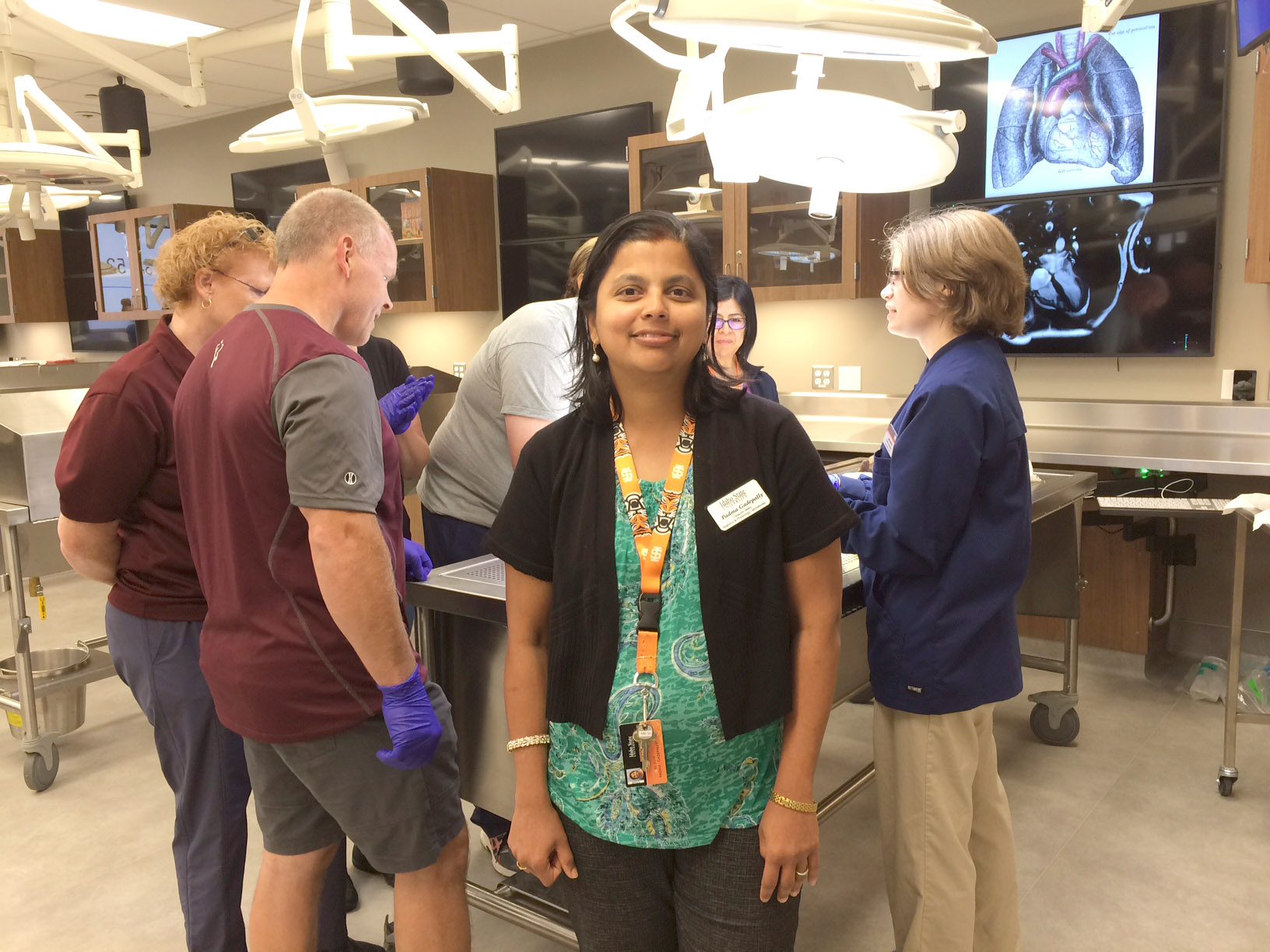 Sixteen health science educators took a rare journey inside the human body at an anatomy workshop Aug. 8, hosted by Idaho State University-Meridian faculty and staff at the L.S. and Aline Skaggs Treasure Valley Anatomy and Physiology Laboratories.
The workshop was offered during the three-day Idaho Career and Technical Education annual conference in Boise. Attendees, including high school and college instructors from around the state, toured the Virtual Anatomy Laboratory before heading to the Gross Anatomy lab to examine multiple body systems, including the heart and lungs, bones and joints, and brain. Gross anatomy refers to the structure of organs and tissues that are visible to the naked eye.
TVAPL educational program coordinator, Dr. Padma Gadepally, said the workshop afforded teachers the opportunity to touch and examine specimens directly instead of relying on textbooks and models to articulate the information to students.
"The goal was to give teachers the opportunity to increase their core competency and make them more confident and knowledgeable in the classroom," Gadepally said.
The workshop did just that for Irene Maxfield, who teaches dental fundamentals to juniors and seniors in the Boise School District. "If I could take one thing back to share with my students it would be the enthusiasm of the ISU instructors," she said, noting a teacher's enthusiasm for the subject matter is key to student success and career development.
On a personal note, Maxfield said the opportunity to handle human specimens gave her a "reverence for the beauty of human creation. We are amazing and can't take that for granted," she said.
The state-of-the-art Treasure Valley Anatomy and Physiology Laboratories opened in 2015 and the university recently expanded the Gross Anatomy Laboratory to accommodate more users.
"One of the long term goals at TVAPL has been to reach out to health and science educators around the state and develop programs for teacher education," said Lorinda Smith, TVAPL manager and clinical assistant professor. "This (the workshop) was an opportunity for ISU to contribute toward potentially improving health professions education as a whole, throughout the state," she added.
Learn more about the labs at www.isu.edu/anatomylabs/.
---
Categories: