Idaho Museum of Natural History to honor Charles Peterson, ISU biology professor
March 5, 2019

POCATELLO – The Idaho Museum of Natural History on the Idaho State University campus will honor Idaho State University Professor Charles (Chuck) Peterson with a Natural History Hero Award at the fourth annual Museum Masquerade Benefit on March 30.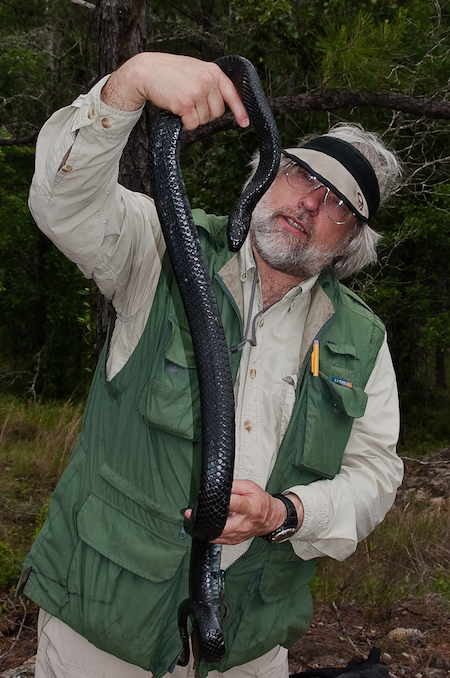 Peterson has dedicated his entire 40-plus year career studying reptile and amphibians in Idaho and the Intermountain West. In recent years, Peterson has employed iNaturalist and crowd source data/citizen science to both educate the public about reptiles and amphibians and to document their ever-shrinking distributions. He is a naturalist through and through. His passion is evident in his nature photography and when he talks about amphibians and reptiles.
In addition, Peterson goes out of his way to introduce students to the diversity of wildlife in the West by taking his classes on field trips to Yellowstone, Zoo Idaho, the East Idaho Aquarium and the Utah Museum of Natural History. For most of his students, this is their first time visiting these places and they routinely note that it was one of the best parts of their class.
The Museum Masquerade Benefit on March 30 will be held at the Phil Meador Toyota at 5:30 p.m. To purchase tickets, visit imnh.isu.edu.
Proceeds will go towards creating a free-choice learning environment that provides children authentic experiences in the fields of science, technology, engineering, art, and mathematics (STEAM) and inspires a love of science and an appreciation for lifelong learning.
The 2019 Museum Masquerade Benefit is sponsored by ON Semiconductor, Westmark Credit Union and Phil Meador Toyota. To become a sponsor please contact Terri Bergmeir, museum director of development, at 208-282-6168.
The Idaho Museum of Natural History has been serving Idaho since 1934. To learn more about the museum, visit imnh.isu.edu or call 208-282-2451.
---
Categories: