Idaho Museum of Natural History holds winter membership drive
March 4, 2019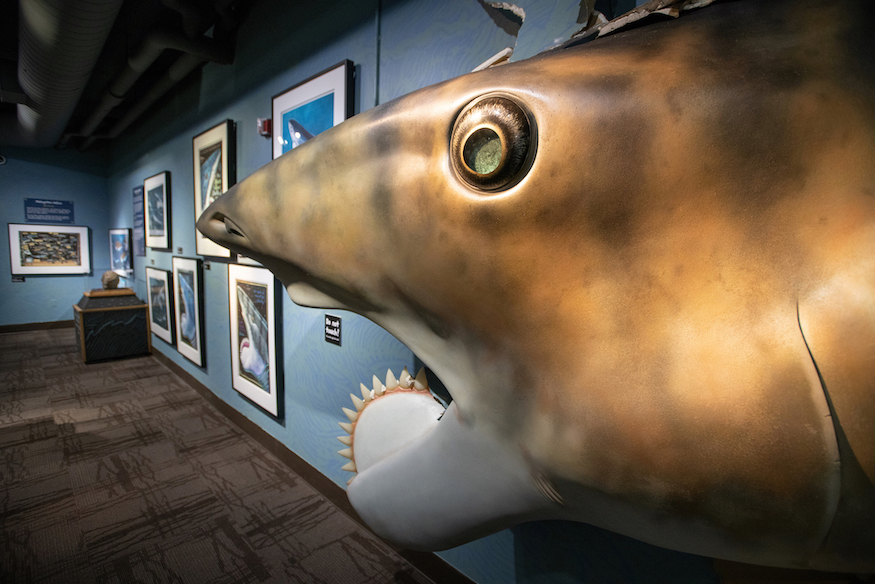 POCATELLO – Looking for a fun and educational family experience this winter? Consider joining the Idaho Museum of Natural History at Idaho State University with an annual membership.
Membership benefits include free access to IMNH exhibits such as the popular "Buzzsaw Sharks of Idaho." This summer, the museum is adding new research about the scissor-tooth shark, Edestus, another weird beast.
During May, members can become a modern day citizen scientist with the wildlife art exhibit "Discovering the Naturalist Within, The Works of Edson Fichter." Members can learn about iNaturalist, to assist biologists in observations from local parks and trails.
Members also receive discounts on the Pahsimoroi Valley lecture series featuring "Pronghorn Migration," "Changes in Idaho Amphibian and Reptile Populations Since Dr. Fichter" and the "Natural History of the Pahsimoroi Valley." Members are the first to hear about upcoming special events and activities as the IMNH celebrates 85 years.
The museum's membership drive has set a goal to add 50 new members to its ever-growing family. All annual memberships include free, unlimited admission, invitations to special events and educational offerings, subscription to IMNH's monthly e-newsletter, 10 percent discount on all purchases at the Idaho Museum of Natural History store, and one one-day guest pass. Additionally, members benefit from quality family time spent exploring the museum's engaging and educational exhibits and collections.
As a past public school teacher of 3- to 5-year-old special need students and now as a grandmother, Kathy Kane is an Idaho Museum of Natural History regular. She said she received her "first membership as a Valentine gift from her daughter-in-law instead of candy."
Kane said she feels the Idaho Museum of Natural History "is an invaluable community resource" and enjoys bringing her granddaughter to STEM (Science, Technology, Engineering and Math) and Family Fun Day activities.
To view all membership options and purchase your membership, visit the Idaho Museum of Natural History, located on the campus of Idaho State University, Tuesday through Sunday, noon to 6 p.m., or online at https://www.isu.edu/imnh/memberships.
The museum has served Idaho since 1934 and as Idaho's official natural history museum. It offers unique, educational and fun opportunities to visitors, classrooms, tourists and community members of all ages.
Every membership is an investment that shapes the future of so many. A membership helps the Idaho Museum of Natural History build a strong community, further its cause and grow the organization. Both the Basic and the Sustaining membership levels inspire appreciation and curiosity through support of our educational programs, exhibitions and preservation of specimens.
Interested people can subscribe to the museum's monthly e-newsletter for program updates and can follow the museum on Facebook for daily historical postings.
Contact Terri Bergmeier at 208-282-6168 with any membership questions or business partnership opportunities.
---
Categories: