Gov. Brad Little appoints Idaho State University faculty member Brian Crawford to State Board of Dentistry
March 27, 2019

He will serve a five-year term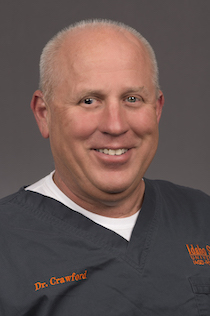 POCATELLO - The Department of Dental Sciences at Idaho State University now has a key seat in the state's most elevated level of dentistry professionals. Program Chair and Associate Professor Brian Crawford began his five-year term with the State Board of Dentistry in February.
A former Idaho State Dental Association President and Southeast Idaho Dental Society president, Crawford was nominated by that group to fill the role on the Board of Dentistry for the Southeast Idaho region. Crawford received a letter from Gov. Brad Little to announce his appointment.
The dentistry board is made up of eight members, and includes five dentists, two dental hygienists and one public member. As the regulating and licensing body for the dental industry in the state of Idaho, the group is tasked with overseeing dentistry/dental hygiene licensure, responding to citizen complaints, skills testing review and providing recommendations to the legislature.
Meg Long-Woodhouse, retired ISU dental hygiene professor, also serves on the board. Crawford said their work is citizen, or patient-oriented, to protect the rights and safety of the patients in the state of Idaho. The board's mission statement reads: "To assure the public health, safety and welfare in the state of Idaho by the licensure and regulation of dentists and dental hygienists."
Crawford said in addition to serving the people of Idaho in his new role, he is pleased to be able to share his experiences with the dentists who are in their final year of training at ISU.
"Having a seat on the board will help us improve the education of dental residents in ISU programs both in Pocatello and in Meridian, along with patient care in both clinic locations. It puts us first in line with new information," he said.
The State Board of Dentistry is currently involved with two major issues facing the Idaho legislature. They work with the Idaho State Dental Association, a group representing dentists and hygienists in the state. One of the key issues is a Medicaid expansion bill passed by voters in November, as dental benefits of Idaho citizens may be affected.
"There's also a dental health aid therapist, which is essentially a mid-level provider for dentistry," Crawford says. "The mid-level provider is essentially like a physician assistant for dentists.
The dental residency at ISU is a one-year program with four dentistry residents in Pocatello and four in Meridian. Over the course of the year, these dentists see approximately 4,500 patients and payment for services is performed on a sliding fee scale. ISU's campus clinics are open to students, faculty and the entire community. For more information about dental services and all of ISU's campus clinics, visit isu.edu/clinics.
---
Categories: