Eighth annual Celebrate Idaho State event set Feb 27
February 21, 2019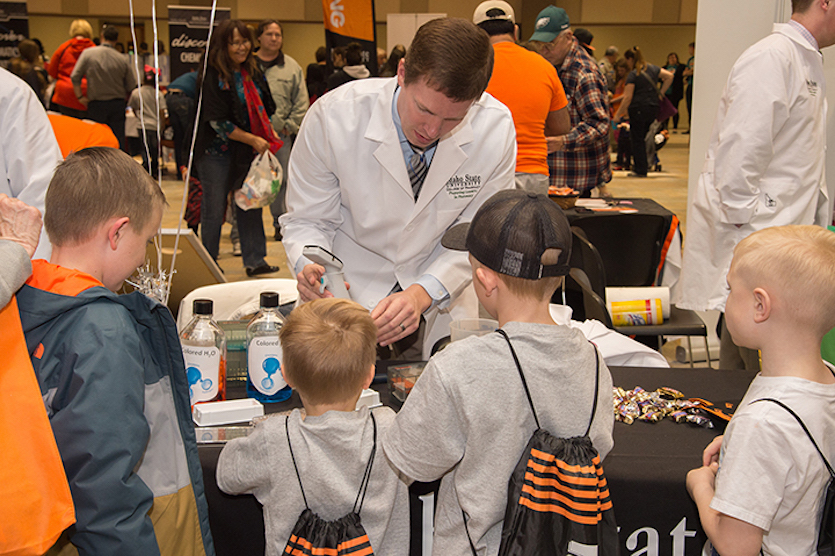 POCATELLO — The eighth annual Celebrate Idaho State, a CommUniversity event, is set for Feb. 27, 4-6:30 p.m., in the Idaho State University Pond Student Union Building, and features more than 90 interactive booths with family activities, free food, and free T-shirts for children.
This year's events have a focus on science and technology. Activities include the chance to try a virtual reality experience, participate in hands-on cancer research demonstrations, enjoy interactive Magneto Physics activities, plant a seedling and much more.
All events are free and open to the public, including a baked potato bar. The first 800 children will also receive free t-shirts courtesy of ISU Federal Credit Union. All Celebrate Idaho State attendees will receive a free ticket to the March 4 mens' basketball game against Weber State, and free movie and Game Center vouchers.
Children can also complete a word search to be entered into a raffle for a Nintendo Switch, sponsored by Idaho Central Credit Union. Word searches will be available at the event.
Celebrate Idaho State is sponsored by CommUniversity, a cooperative effort between community leaders, businesses and the University. The CommUniversity committee sponsors two annual events, including Welcome Back Orange and Black, a fall event where the community welcomes students back to Pocatello for the academic year.
For more information contact Allyson Johnson, ISU special events coordinator, at (208) 282-4798, or Val Davids, student organization coordinator, at (208) 282-3451.
---
Categories: