Ches Barnes trades Atlantic Ocean for Snake River and Settles in at Idaho Falls
April 29, 2019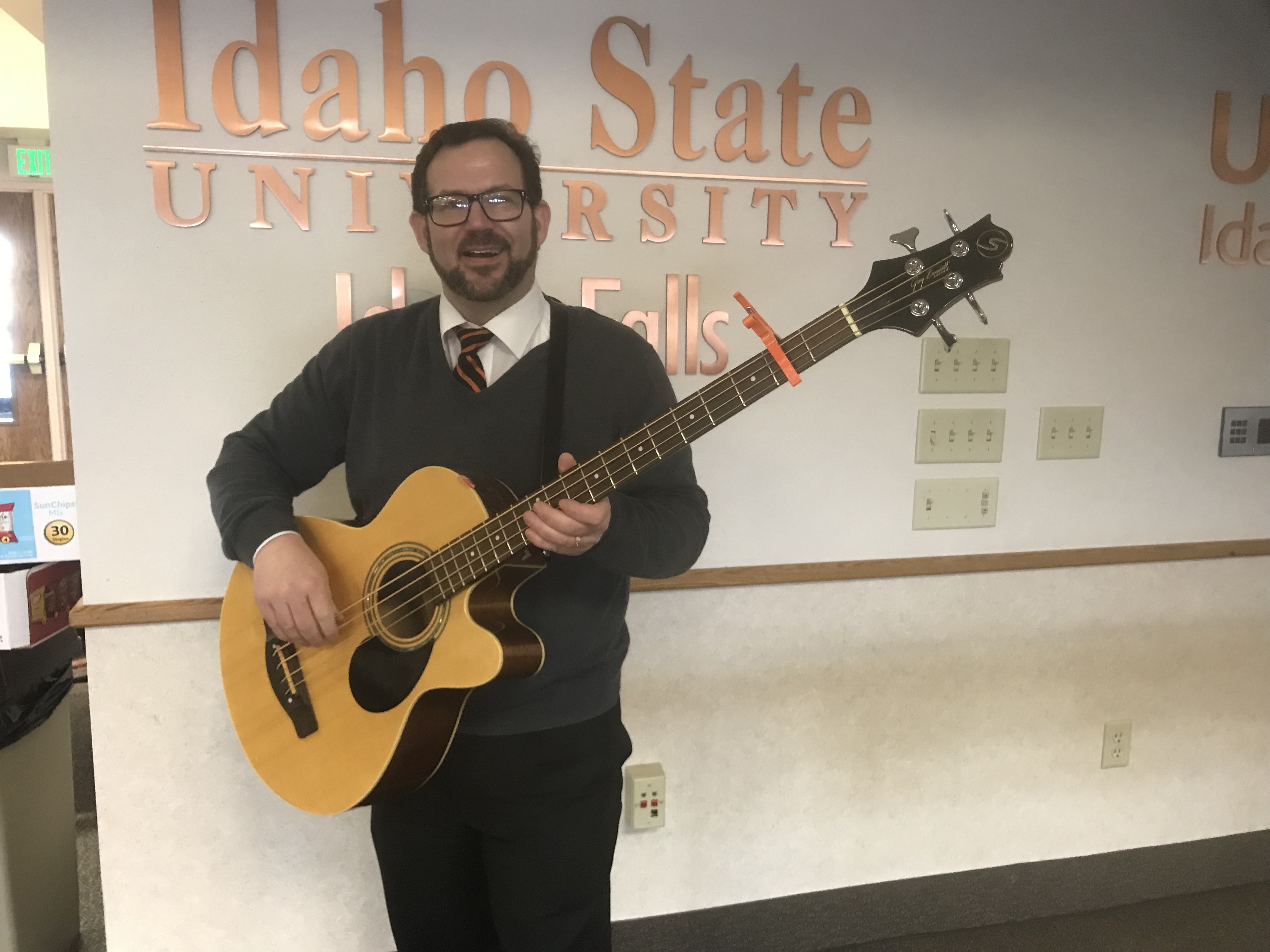 Family is the top priority for Ches Barnes, Bennion Student Union director at ISU-Idaho Falls, but that doesn't stop the native Canadian from being a bit of a Renaissance man on the side, pursuing his loves of military history, music and poetry.
"My wife and my four children are the most important thing and the joy of my life," said Barnes, who married his wife, Nikki, 24 years ago when he was going to college in Salt Lake.
The couple has four children, Lee, Rob and Rick and daughter Kimmie who are aged 22, 20, 18 and 14, respectively.
His daughter was only a few months old when the Barnes family moved from Salt Lake City to Idaho Falls when Ches was hired as Bennion Student Union director 14 years ago. Barnes earned his bachelor degree attending Salt Lake Community College and the University of Utah, and then earned a master's degree from the University of Idaho since moving to the Gem State. He has lived in the United States since 1992 and was naturalized in 2011. He was working as the coordinator of auxiliary services at Salt Lake Community College Miller Campus before moving to Idaho.
The family had no trouble adjusting to their new home town, even though his wife has spent most of her life in the Salt Lake City, was close to her family and was apprehensive about moving to Idaho.
"But after we lived here for a year she said to me, 'I don't even want to hear about you looking for any jobs for five years' and then in five years she said 'I don't even want to talk about moving,'" Barnes said. "We love Idaho Falls. It is awesome."
Before moving to the United States, Barnes spent three years serving his former country, which helps explain one of his top non-work interests.
"I would have to say these days my primary hobby is studying military history, because I spent three years in the Canadian military as a combat engineer," Barnes said. "I love my roots and military history is something that just interested me, but I also love guitar and poetry."
Many who frequent the Bennion Student Union Building may be familiar with Barnes' musical interests and talent – a couple times of year he performs music there, often with Amy Anderson, an administrative assistant at ISU-Idaho Falls for university programs and financial aid. When he performs with her, Barnes plays acoustic bass and she plays a six-string guitar. When playing by himself, he plays the six-string guitar. They duo occasionally plays off campus, too.
"We have a little group we jokingly call 'Ches-Amy' Street," he said. "We were joking around one day and now we can't get rid of the name."
Barnes likes writing his own songs and poetry.
"I have my own style (for poetry), writing in iambic heptameter, but I recently forged into iambic pentameter, just trying some new things," he said.
The music and the writing go together.
"I had already written poetry for a few years when I started guitar (at 17) so that just came naturally, so I still write poetry besides writing songs and stuff, too," said Barnes, who is now 50.
Being Bennion Student Union Director keeps Barnes busy. The Union and Student Activities Board – Idaho Falls try to offer at least one activity a week including rotating lunches, dinners and other student activities. They also host two family carnivals annually and sponsor movie matinees and many other activities.
"We also help co-sponsor activities with some of the academic departments," Barnes said. "For instance, this semester the History and English departments will do a 'Lunch Box Lecture' that are fun, entertaining informational presentations.
He said Dr. Fuller's English class has done "Living Literature," which can be a play or some individuals doing orations, and one student did an ice-skating video.
"We try to mix it up as much as we can and involve faculty, staff and other departments," he said.
There are many student clubs and services offered at the Bennion Student Union, including a branch of the Veterans Students Services Center.
And the campus isn't too shabby, either.
"Being next to the Snake River is awesome," Barnes said. "I grew up on the ocean and moving inland was a little tough, but if I need water I have it right there and can walk down to the river, especially when the weather is nice. The campus here is so beautiful here in the spring and summer."
---
Categories: