Luke's Health System official selected for 2019 ISU Vice President for Health Sciences Excellence Award
April 18, 2019

ISU Kasiska Division of Health Sciences to recognize Dr. Mark Roberts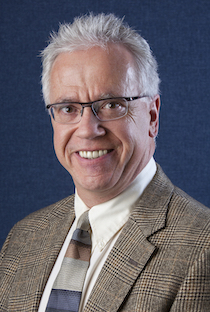 MERIDIAN - The Vice President for Health Sciences' Excellence Award is presented annually to individuals who have made meaningful contributions to the success of the Kasiska Division of Health Sciences at Idaho State University. Dr. Mark Roberts of St. Luke's Health System is the recipient of the award for 2019. Roberts will be honored at an awards luncheon in Pocatello on May 3 and at the ISU-Meridian commencement ceremony on May 6.
Because ISU's health sciences programs operate without an academic medical center, a unit that is critical for the learning process of their students, ISU and the Kasiska Division of Health Sciences are dependent upon community partners, such as hospitals and clinics, to provide the practical training health professions students require. In addition, these partnerships also offer opportunities for research collaboration. Mark Roberts, MD, MMM and the St. Luke's Health System will receive this year's Vice President's Excellence Award for being stalwart supporters of ISU.
Dr. Roberts, who is now the Administrator for Clinical Research, came to St. Luke's Health System in January, 2012 to become the inaugural Medical Director for Research. This subsequently expanded to include oversight for Medical Education for residents, and medical, physician assistant, and nurse practitioner students. Clinical research at St. Luke's has grown to include more than 240 active clinical trials spanning a number of disciplines and specialties. A division of Applied Research was created in 2014 with both academic and community partners focusing on healthcare delivery research relating to population health, quality of life and economic improvements. Robert's current title is Administrator Clinical Research.
"Dr. Roberts has assisted with coordinating thousands of hours of practical experiences for ISU's health professions students within the St. Luke's Health System. From pharmacy students to family medicine residents to audiology and medical laboratory science students, we are grateful for the opportunities provided for our learners," says Rex Force, PharmD, VP for health sciences.
Force says that in addition to being a critical training site for students, a number of other cooperative projects have formed between ISU and St. Luke's. About four years ago, St. Luke's and ISU began a jointly funded post-doctoral training program designed to address important questions at the Pediatric Complex Care Clinic, where children with severe illnesses and injuries are treated. "Again, Dr. Roberts has provided tremendous leadership and commitment to this partnership which has resulted in several important and impactful projects," Force explains.
The annual Kasiska Division of Health Sciences Awards Luncheon takes place Friday, May 3 at the Barbara J. Marshall Rotunda in the Stephens Performing Arts Center, 1002 Sam Nixon Drive, Pocatello, ID 83209. The ISU-Meridian commencement ceremony will take place Monday, May 6 at CenturyLink Arena, 233 S. Capital Blvd., Boise Idaho 83702.
###
About Dr. Mark Roberts
W. Mark Roberts, MD, MMM completed medical doctorate (MD) training at The University of Missouri Kansas City in 1982 and pediatric residency at Children's Mercy Hospital in Kansas City, Missouri in 1985. He then completed pediatric hematology/oncology fellowship at St. Jude Children's Research Hospital in Memphis, Tennessee and worked as a grant-funded physician-scientist focusing on biology and treatment response of childhood leukemia and lymphomas from 1985-1994. He then moved to The University of Texas M. D. Anderson Cancer Center in Houston where his research extended to include adult malignancies with international collaborations. In 2000, Roberts expanded his efforts to physician executive leadership positions that emphasized research and medical education working at Long Beach Memorial Medical Center and Miller Children's Hospital in Long Beach, California. In 2009, he completed a Masters of Medical Management (MMM), an executive MBA for physicians, at the Marshall School of Business at the University of Southern California.
---
Categories: