Summer of 2019 was productive for ISU Facilities Services upgrades, improvements
September 11, 2019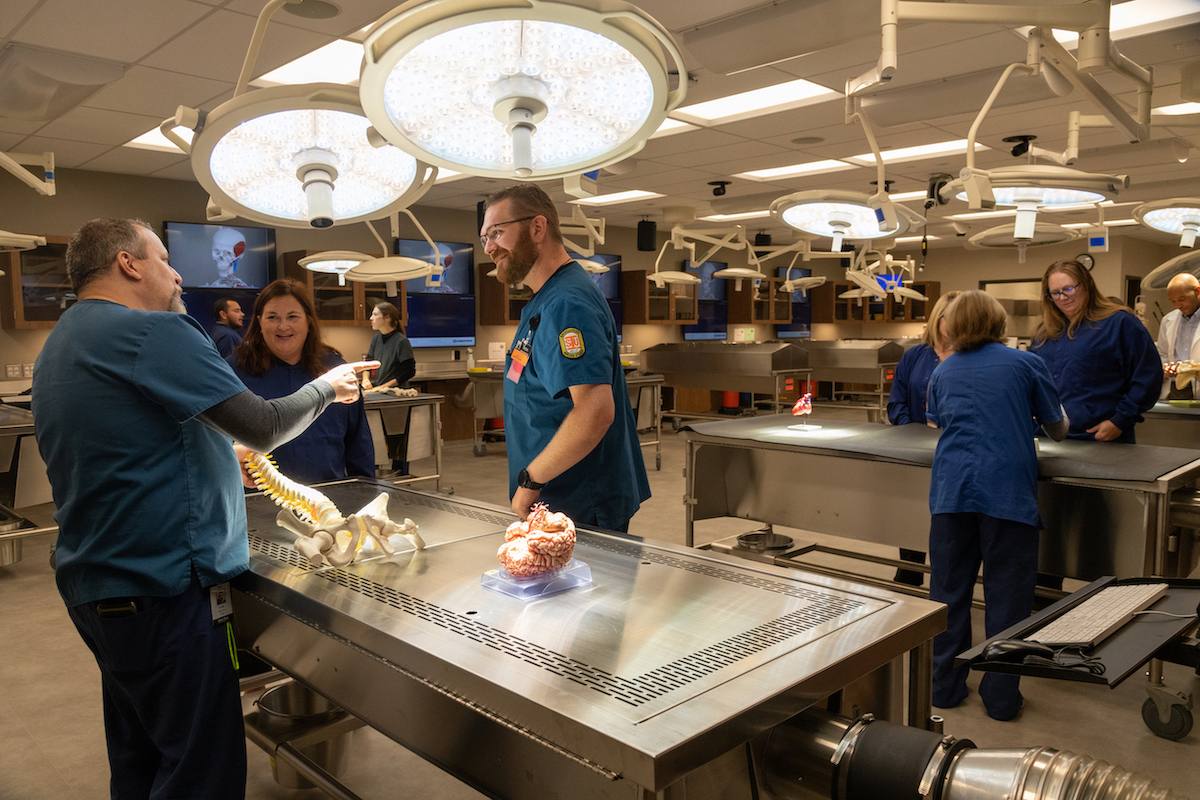 POCATELLO – Idaho State University Facilities Services had a productive summer, starting or completing 55 projects totaling $14.4 million, ranging from minor upgrades to major building additions.
"We were pretty busy," said Cheryl Hanson, ISU associate vice president for Facilities Services. "The projects ranged from really small projects, like a $2,600 lab expansion at the Owen Redfield Complex, to the largest project that was the Treasure Valley Anatomy and Physiology Lab expansion and the nursing addition, which was $6.6 million."
She said the last few years Facilities Services has been engaging in about $14 million annually on summer projects.
Hanson highlighted eight of the projects that were undertaken this summer.
• ISU-Meridian Treasure Valley Anatomy and Physiology Laboratory and nursing addition: Laurence Rose was the project manager for the expansion that cost about $6.6 million, that had a building area of 4,490 square feet for laboratory and 7,646 square feet for the nursing addition.
Funding for the project included $2.5 million from Idaho College of Osteopathic Medicine, and $3.6 million from the ALSAM Foundation, with remaining funding coming from ISU.
The new Treasure Valley Anatomy and Physiology Lab features very specialized laboratory space consisting of the main gross lab with space for 12 student stations with downdraft cadaver tables, as well as a support room for staff use in preparing specimens. In addition to ISU physician assistant student instruction, Idaho School of Osteopathic Medicine students use the lab regularly under a special collaborative agreement.
The new suite for the Accelerated Nursing program has specialized simulation teaching spaces to meet the needs of students including urgent/flex, exam/emergency and pediatrics simulations. To further replicate a hospital setting, the suite includes a five-station Nursing Skills Lab. Also included in the project are eight faculty offices, a multi-use executive conference room and a Biostat Lab, which is envisioned as a "think tank" collaborative space.
• ISU-Meridian Electronic Media Library: Rose was the manager for this $242,000 project, that had a building area of 1,351 square feet.
The student-centered design process began with a visioning exercise where students told planners what they would value and use in a new library facility.
" This set the standard from which we measured our success," Hanson said.
In order to foster collaboration and encourage interdisciplinary opportunities, they selected the room furnishings and room features which now include:
• A soft furniture area for casual study and socializing
• Study tables / carrels for individual work
• Computer stations for work and research
• Two semi-private group work/study rooms with A/V connectivity
• Learning/help/circulation desk where University Librarian offers ad hoc research instruction
• New ISU branding with exciting colors, unique lighting and decor features
• Kegel Liberal Arts Building flooring and paint: Todd Adams was the manager for this $480,000 project. This building was built in 1949 and houses programs from the College of Arts and Letters, English and Philosophy, Gender Studies, History, Sociology, Social Work, Criminology, and Communication /Media Persuasion Departments. Idaho Public Television studio and offices are also in the building.
Phase I of replacing the flooring cost $465,000 and was replaced with branded materials to re-fresh the building in an area that hasn't had expenditures in years. This project also received $25,000 to apply a fresh coat of paint in the new flooring common areas.
• Pharmacy of Pharmacy, Leonard Hall Carpet, Paint and Furniture Upgrades:
Chris Baker was the ISU project manager on this $118,812 project that included new carpet and paint in the dean's suite area, which included asbestos abatement of the old flooring and mastic. The dean's suite area also was repainted with the new ISU colors. The dean's suite is 3,600 square feet.
ISU Facilities Services also replaced the carpet in 23 offices, three classrooms, three seminar rooms, one lab and one reception area.
"I believe the benefit is giving the department and students a fresh and exciting new environment to work and learn in," Hanson said. "It makes the areas current and up-to-date with the new ISU branding with the new flooring and paint colors."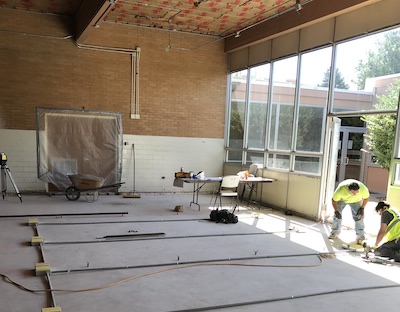 • Albion Hall Dietetics Laboratory remodel: Herb Yee is ISU project manager on this $741,000 project scheduled to be completed in November.
The remodel will expand the number of cooking stations to 14 from 10, ovens to 13 from 10 and provide ADA accessibility to students. More storage has been added so accessibility to small appliances and other cooking essentials will be close at hand. A sensory lab has also been added for food testing. The commercial kitchen area has been changed to a food prep area with the capacity to have up to three refrigerators. In-floor electrical has been added in the classroom area so students are able to plug in their electronic devices.
• Fine Arts Building heating, ventilation and air conditioning upgrade: Baker was the ISU manager on this $383,846 project that consisted of removing and replacing eight air-handler units in the mechanical rooms of the Fine Arts Building. These air handlers were original to the building and were approximately 54 years old. Typically, this type of equipment lasts about 20 years.
The new air handlers will run quieter and more efficiently for the all the events, activities and classes held in the building.
• Campus banners projects: ISU Facilities Services worked with the ISU Office of Marketing and Communications on these projects that had a cost of $12,000. New ISU marketing banners were installed on the ISU Fine Arts Building, the Pond Student Union, Reed Gymnasium, and the Stephens Performing Arts Center.
• Red Hill retaining wall: Cole Elquist was the manager for this $19,000 project. The wall and wall cap were painted with ISU branded colors, ISU Gray and "Roarange," with ISU Black on the handrails.
Refurbished Red Hill Wall.
Reed Gymnasium campus banner