Six ISU entrepreneurial teams take home cash prizes in annual U.S. Bank Pitch-Off
December 19, 2019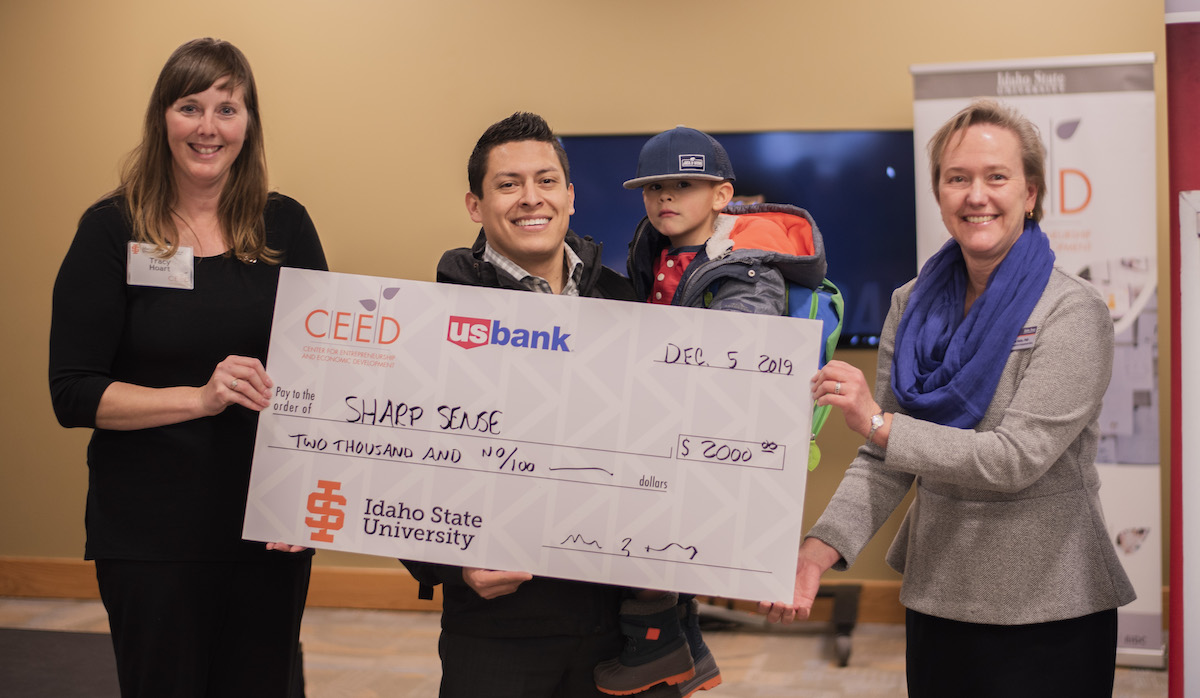 POCATELLO – Two teams tied for first place and each earned a $2,000 prize at the Idaho State University Center for Entrepreneurship and Economic Development (CEED) and U.S. Bank annual Pitch-Off event held this month in the ISU Pond Student Union.
This year, 23 teams from colleges and divisions across the Idaho State University campus participated in sharing their innovative ideas for products or services with volunteer judges from throughout the community. Students competed for a chance to win cash prizes sponsored by U.S. Bank. Each student team spent 10 minutes pitching their ideas to judges and six walked away with prizes.
One of the first-place teams was Sharp Sense, consisting of College of Business master of health care administration student Tony Torres and his wife Kelsi Torres. Sharp Sense is a medically-centered, sensor device used to send out an alert when hazardous waste containers, filled with needles, reach their capacity.
The other first-place team was H2 Therapeutics, consisting of pharmacy and master of business administration students Jared Barrott, Hugo Rayo and William Cannon. This device places a modification on the continuous positive airway pressure therapy machine that delivers more enriched oxygen to the user, making it easier to sleep.
The second-place winners for the competition was College of Business students Michael Magee and Dylan Orr who won $1,000 for their idea BedWedge. This bike rack would fit into the back of a truck, designed to provide the user with more space. Magee and Orr also won $250 for best prototype as made by a College of Technology student/faculty team.
Third place was tied with $500 prizes going to the teams Broke Saver and Postergeist.
The U.S. Bank Pitch-Off is organized by CEED and is open to any ISU student. This program helps incentivize student entrepreneurs to polish-up their eventual application to the statewide, $100,000 Idaho Entrepreneur Challenge held in Boise in the spring.