"Rec Your Stress" program combines mental, physical health at ISU Campus Recreation Center
September 10, 2019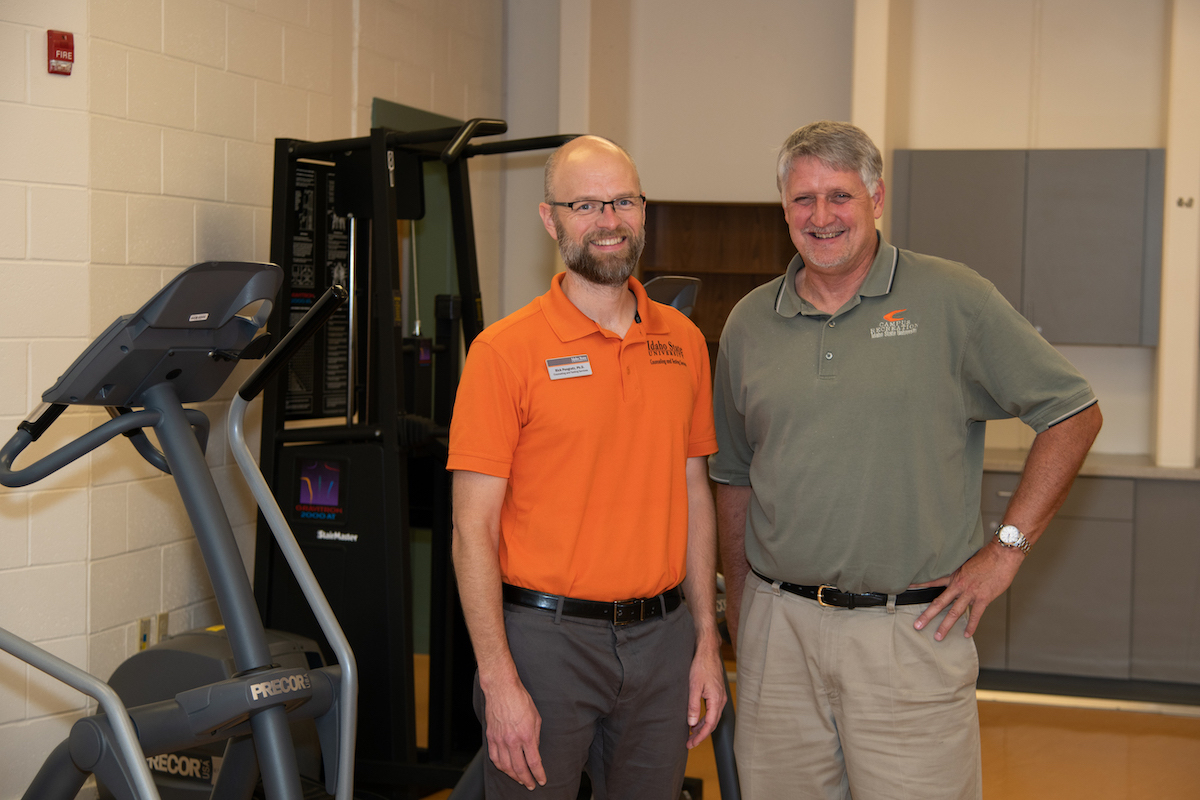 POCATELLO – New this semester at Idaho State University students can address their mental and physical health simultaneously by participating in the "Rec Your Stress" program being offered in the Campus Recreation Center.
"The 'Rec Your Stress' program is about complete mind-body wellness for college students," said Rick Pongratz, director of the ISU Counseling and Testing Center. "It is an opportunity for us to address mental health needs in college students in an environment that is also advocating for their physical health."
The Rec Your Stress program is offered out of Campus Recreation offices, Room 266, adjacent to the center's lower level weight and exercise area. Participants start with a single-session program that helps them develop an action plan to address some of the concerns in their lives and also introduces them to Campus Recreation services, biofeedback services and the broader counseling services offered at ISU.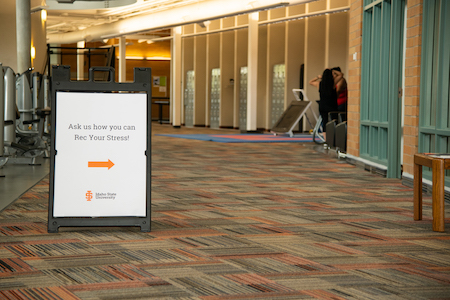 "It has been going well," Pongratz said. "Students like to be able to quickly address their problems, get an action plan and get out and get to work on it. "
Pongratz said the location of the offices in the Campus Recreation Center is ideal for several reasons.
"For one, there is a different level of foot traffic that we would see in the Counseling Center and this location is free from some of the stigma of mental health that coming to the Counseling Center might have," he said. "It is also a place where we might see students who may be interested in or nervous about what counseling is and this is an introduction to them for addressing some of their concerns."
Programs that address mental and physical health simultaneously are being implemented at more and more other universities around the country.
"I know at Michigan and Syracuse they are both working on getting personal trainers and physical wellness connected directly through referrals from their counseling centers and this is a great opportunity for us to do that here so we can stay on the cutting edge of mind-body wellness that is taking place across the country."
The Campus Recreation Center location for the program can also be used to introduce students using the ISU Counseling Center to the benefits of exercise, which is a recommended intervention for a lot of mental health concerns including depression and anxiety.
"We can use these offices for students in counseling that have never been to Campus Rec or who are nervous about exercising in front of other people," Pongratz said. "We can slowly help transition them so they feel more comfortable here, or we can have a regular appointment here, give them a tour and some 'talk-while-we-walk therapy.'"
He expressed his gratitude to Campus Recreation for providing the space and for being a partner in offering the new student service.
Doug Milder, director of Campus Recreation, said his office and Pongratz began discussing offering a program like this more than a year ago.
"I knew there was a connection between mental and physical health and told Rick we could do something up here to meet the needs of the students. We both liked the play on words 'rec your stress,'" Milder said. "We are happy to offer the space to do this and to work with the ISU Counseling and Testing Center on this initiative."