'Patterns of Change' exhibit by Christine Fortner runs Jan. 15-March 24
January 7, 2020

POCATELLO – Local artist Christine Fortner recently completed an artist residency in Juneau, Alaska and her exhibit "Patterns of Change" highlights this experience and will be on display on the first floor of Idaho State University's Oboler Library from Jan. 15 through March 24.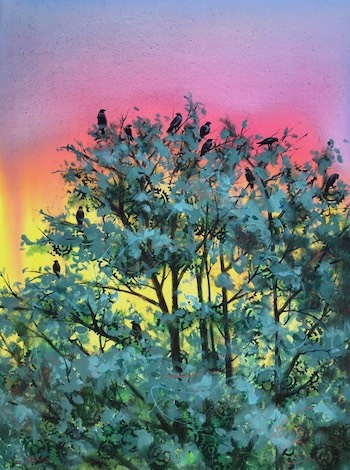 The Oboler Library will host a public reception for Fortner and her exhibit on Thursday, Jan. 30, from 4:30 – 6 p.m. on the first floor of Oboler Library Refreshments will be served. Parking on campus is free after 4 p.m. Oboler Library is located at 850 S. Ninth Ave. in Pocatello.
Fortner's Alaskan artist residency was sponsored by the Alaska State Parks.
"Patterns of Change" features acrylic-patterned paintings that started with an Alaska State Parks residency and continued through Fortner's move to Idaho Falls. This series documents the change in scenery and types of birds and animals she experienced.
"Ironically moving to Idaho exposed me to more variety of birds and animals, which I did not expect," Fortner said.
Fortner enjoyed teaching watercolor painting at the Anchorage Museum for 20 years and showing her work at the local gallery, Artique Ltd. Her work has been published in several books on watercolor and acrylic painting. "AcrylicWorks 3," published by Northlight Books is the most recent.
One of the paintings in this show, "Family Tree," was selected for the M. Graham Award in the 2018 International Society of Acrylic Painters Exhibition, which lead to an invitation to be the Artist Representative for M. Graham & Co.
Before moving to Idaho, Fortner was featured in the Alaska State Parks 2016 Artist in Residence Program at the Ernest Gruening State Historical Park. Fortner belongs to a number of local and national arts organizations and is a Signature Member in the International Society of Acrylic Painters and the Alaska Watercolor Society. In addition, Fortner is a member of the Idaho Watercolor Society, The Snake River Plain Air Painters and Gallery 12.
Fortner lives in Idaho Falls and has a studio in the Willard Arts Center above the Colonial Theater. The studio is open for the Idaho Falls Gallery Walks in addition to holiday open houses. Fortner teaches watercolor classes at The Art Museum of Eastern Idaho and is happy to share M. Graham & Co. paints with her students.
"When I'm not painting abstracted interpretations of nature and wildlife, I like to spend time with my grandchildren, traveling and cooking," she said.
You can visit Fortner's website at www.fortnerstudio.com and follow her on Facebook and Instagram @fortnerstudio.
Fortner's exhibit can be viewed whenever the library is open. For a full list of hours see: isu.libcal.com/hours/
For questions regarding art in the Oboler Library, send an email to shrosand@isu.edu or call (208) 282-2671.
Painting Title: "Murder at Dusk" by Christine Fortner
---
Categories: