Opening, reception set Oct. 1 for Oboler Library "Swinging Hammers and Gleaming Metal" exhibit
September 20, 2019

POCATELLO – The Idaho State University Oboler Library will open "Swinging Hammers and Gleaming Metal," an exhibit of metal art by students of ISU art Professor Kristina Glick, with a reception from 6 to 8 p.m. on Oct. 1.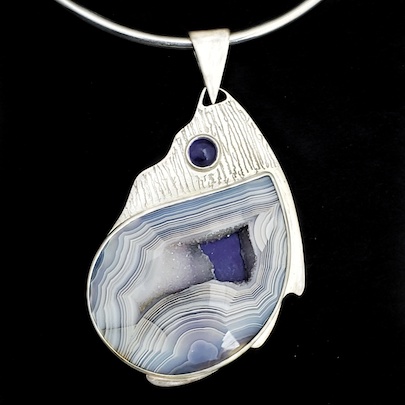 ISU senior art student Victoria Fischer is the curator of the exhibit, which includes all levels of jewelry students at ISU, from introductory level to advanced level and beyond.
"I want everyone in the community to see what it is that we jewelry students do," Fischer said. "I feel that not enough people know that we have this class and that it inspires people to try harder and persevere through adversity."
With the guidance of her Glick, Fischer has been working to get all the metals students in this show that includes small sculptures, display items and jewelry. The exhibit, located in the library's First Floor art area, runs through Nov. 15. It can be viewed during when the library is open, see http://isu.libcal.com/hours/ for a complete listing of the Library's hours.
Glick, a visiting artist, has been teaching metalsmithing and jewelry-making classes at ISU for three years and has encouraged her students to push boundaries and try new ideas.
The Oboler Library is at 850 South Ninth in Pocatello. Parking is free on campus after 4 p.m. For more information about art in the library, contact austkris@isu.edu.
Photo information: A piece in the exhibit by Jeff Davies.
---
Categories: