'Niche' exercise area is expanded at Campus Recreation Center
October 29, 2019

Another racquetball court in the ISU Campus Recreation's tennis center has been converted to an exercise area and connected to an adjacent converted racquetball court to offer expanded spaces to workout in.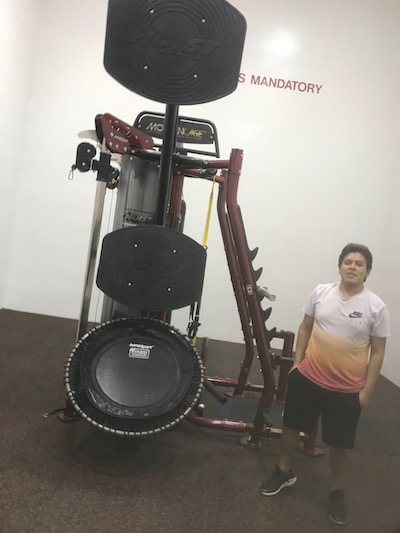 The two former courts have had their doors widened for easier access and an archway has been cut into the wall between the courts so patrons easily go from one to the other.
"We put flooring in, made cuts in the concrete walls and put in some new equipment," said Bill MacLachlan, associate director of ISU Campus Recreation. "It is a trend in campus recreation to convert under-used spaces and use them for other activities. This new area is getting more use now than it was when the rooms were racquetball courts."
There are still four racquetball courts for use in the facility.
Equipment in the newly expanded space includes a cage machine, a kick bag, a heavy bag for punching, a Rogue fitness rack, TRX straps, Bulgarian bags, fitness balls and kettle-bell weights.
"It is one more niche area where people can go if they like to do these types of exercises," MacLachlan said.
The cost of the renovation was around $50,000.
"I like these rooms because they are more private and I can do my exercises better because there are a lot fewer people here and it allows the space to do them," said Maddie Wagoner, a senior at ISU.
Photo info: ISU student Aldo Cordova in the new exercise space.
---
Categories: