ISU CW HOG program serves veterans by offering rafting adventure
August 21, 2019
Andrew Taylor, Assistant Director of Marketing
POCATELLO – For the fifth consecutive year the Idaho State University Cooperative Wilderness Handicapped Outdoor Group (CW HOG) offered a free trip to veterans for a five-day rafting adventure down the Green River through the "Gates of Lodore" in Dinosaur National Monument.
Ten veterans from throughout Idaho – from Pocatello, Twin Falls, Idaho Falls and Boise – joined the group of 23 that included staff, ISU students and community members on the early-August float trip. They floated 50 miles through stunning canyon country in Colorado and Utah.
"The veteran population is one that deserves to be served and have these experiences," said Bob Ellis, CW HOG instructor/outdoor recreation coordinator. "The trip was great. We had great weather, and a little low water because it was later in the season, which makes for some challenges. But we love traveling with the vets because they love to help out, that is their nature."
CW HOG receives grant funding from the Veterans Administration to essentially offer this annual trip for free to veterans. The veterans have to provide a $100 deposit, but it is refundable upon completion of the trip.
"We want everyone to know we are doing this for the veterans because they are an important population for us," Ellis said.
The veterans on the trip included some ISU students but it is open for veterans statewide. For some, the trip can be life changing. Chad Elliott, a veteran and ISU alumnus from Ammon, said the trip was exceptional.
"Because of Justin, Bob, and Kerry (CW HOG staff) I have a renewed strength to live life to the fullest," Elliott said. "The rafting trip opened my eyes to greater possibilities and I am honored and blessed to know there are still people out there who want to unselfishly support our country's veterans. I look forward to going on the rafting trip next year."
CW HOG is pursuing funding to potentially expand free or low-cost offerings to veterans for winter activities such as skiing or yurt trip.
As noted above, veterans weren't the only members of the group of adventurers. The trip included current ISU students, including Sierra Anderson, from Twin Falls, who is a senior in ISU's nursing program.
"The trip was a blast and I have been on many rafting trips and this was one of my favorites," Anderson said. "I totally recommend anyone to take on this adventure and try something new with the Outdoor Adventure Center. It was very well planned and I felt like I was with experts and was safe at all times."
"Rafting on the river," she continued, "is an experience that you cannot describe and it is never too late to have an adventure of a life time in the rivers of unknown."
ISU students can sign up for one free outing this summer. A deposit is required, but will be refunded after participating. Space is limited, so students should sign up early for the first-come, first-served trips. Restrictions and limitations may apply. Participants may be required to provide their own equipment, but equipment rentals are available at a student rate. Trips planned this fall include stand up paddle boarding, Hagerman whitewater rafting, rock climbing at Massacre Rocks, caving, kayak touring, a Yellowstone tour, rock climbing at Castle Rocks, Lava Hot Springs trip, overnight yurt trip and West Yellowstone cross-country ski trip.
The Outdoor Adventure Center rents outdoor equipment ranging from rafts and kayaks to backpacks and mountain bikes.
For more information, visit https://www.isu.edu/outdoor/ or call 208-282-3912.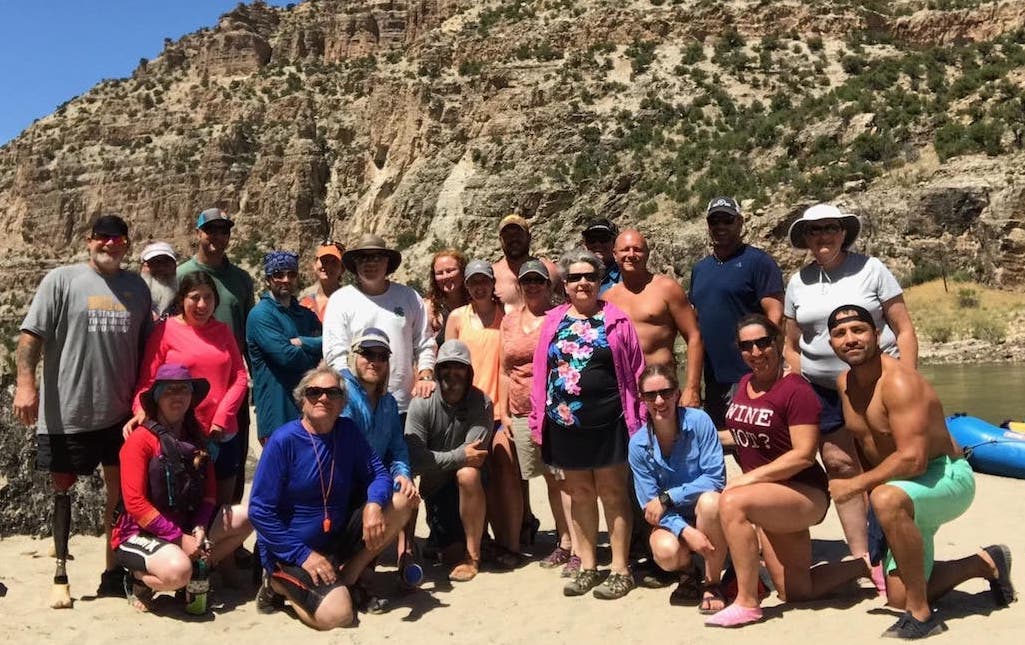 A group shot of raft trip participants. Bottom three photos courtesy of Bob Ellis, CW HOG.


Idaho State University, a Carnegie-classified doctoral high research activity university and teaching institution founded in 1901, attracts students from around the world to its Idaho campuses. At the main campus in Pocatello, and at locations in Meridian, Idaho Falls and Twin Falls, ISU has nine Colleges, a Graduate School and a Division of Health Sciences that together offer more than 250 certificate and degree programs. More than 12,000 students attend ISU. Idaho State University is the state's designated lead institution in health professions.
---
Categories: