ISU student Sarah Childs is the U.S. national champion in equestrian competition
December 2, 2019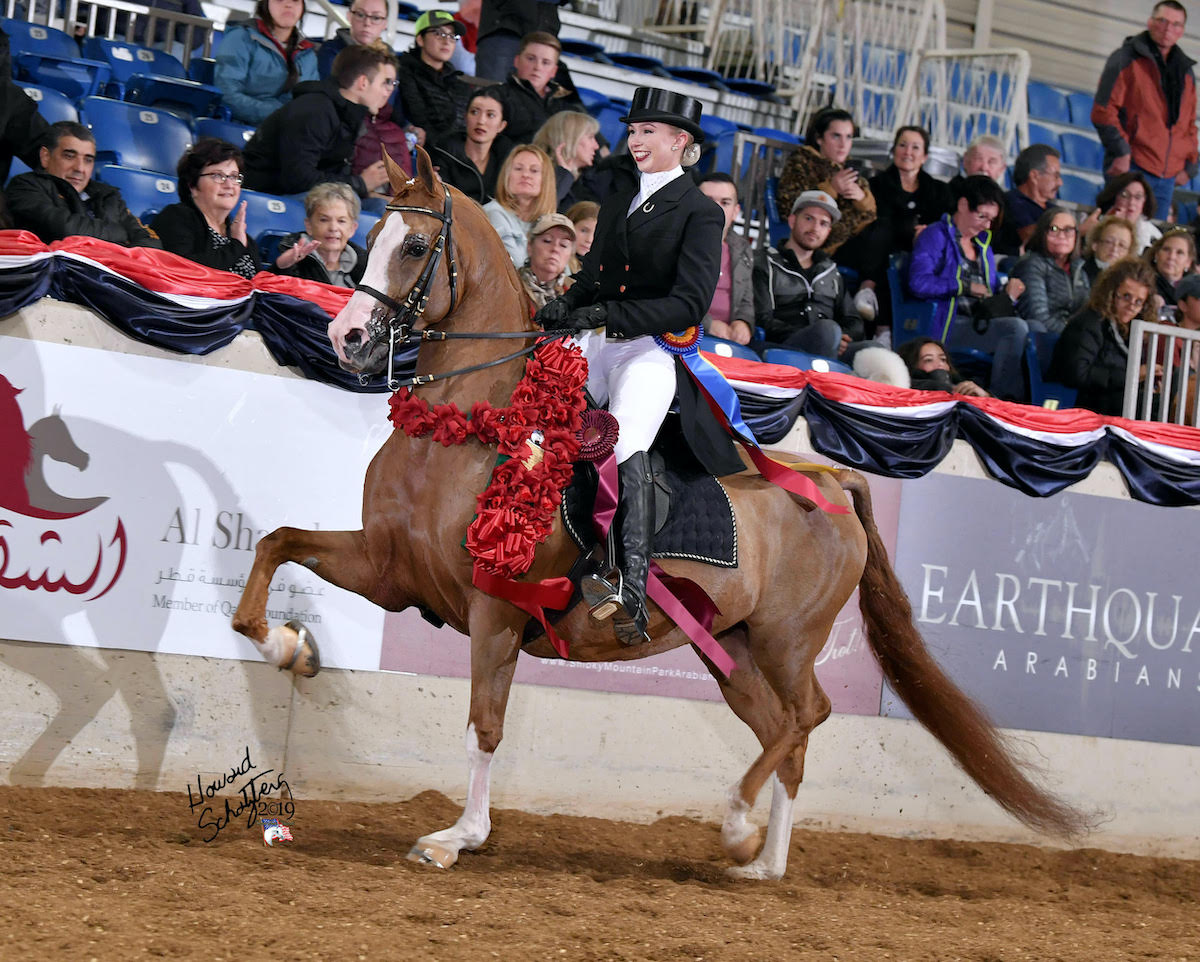 POCATELLO – At just nine years old, Sarah Childs learned to ride horses and developed a passion for it. Just one year later, she was already competing in her first competitions.
Now a senior at Idaho State University preparing to graduate, Childs has won many honors, the most recent being the U.S. National Champion Half Arabian English Show Hack Adult Amateur Owner to ride.
"Practice is key in this sport," said Childs, who is from Rigby. "Horses are living animals, and it is important to have a good connection with them and to be a strong rider so that you can handle any situation."
Because show arenas are generally noisy, many horses get spooked easily. Being a strong rider is essential.
"It takes a lot of dedication to be successful or to have a good time in this sport," Childs said. "There can be very low lows, but the highs are incredible!"
Childs currently competes with Arabian and Half Arabian horses. She competes in two different disciplines with her horses: country English pleasure and English show hack. For each different discipline, Childs has to be wearing appropriate attire based on different judging requirements.
"Country English pleasure allows the horses to have a lot of natural motion, meaning they pick their feet up very high," Childs said. "English show hack is longer and more challenging. Riders and horses are asked to do a variety of different movements in each discipline."
In order to get to nationals, riders compete in an "A" show. This show qualifies riders for regionals. Once at regionals, riders have to earn a top-five finish or better to qualify for nationals. At nationals, most classes are called "sections." Riders have to qualify to ride in the final for their class by placing in the top portion of each section. There can be multiple sections riders have to compete in before making it to the final section.
Being part of this sport has taught Childs many different skills that she can take apply to different aspects of her life.
"I was a shy kid when I first started riding horses, and it forced me to come out of my shell and learn how to interact with and meet new people," Childs said. "I have learned a lot about dedication, perseverance and hard work when you have to face obstacles to your goals."
Though riding is a large part of Childs' life, she said that school takes priority. Childs took a year and a half off from riding when she first started college.
"This year was actually my first year attending U.S. Nationals," Childs said. "Last year was the first year I qualified by age division to attend U.S. Nationals, but it is a week-long competition in the middle of October, so I couldn't make it. This semester I was fortunate enough to have great professors who were willing to work with me being gone a whole week."
The horse that Childs rode in all of her award-winning events from 2017-2019 also earned an achievement award called the Legion of Excellence. The award is based on the amount of points she has earned at competitions.
Childs, who will graduate with a degree in biomedical science, currently works as an education intern at the Idaho Museum of Natural History where she plans and organizes outreach events. After graduation, hopes to obtain her master's degree in biology and then go on to medical school. Despite her ambitious educational dreams, Childs wants to continue riding.
"I can't imagine my life without horses," Childs said. "I hope to be able to continue to be involved in this sport for as long as possible."
Childs' most current honors and awards are as follows:
2017:
Canadian National Champion Half Arabian Country English Pleasure Junior Owner to Ride
Canadian National Top Ten Half Arabian Country English Pleasure Junior to Ride
2018:
Canadian National Champion Half Arabian English Show Hack Adult Amatuer Owner to Ride
Canadian Reserve National Champion Half Arabian Country English Pleasure Adult Amatuer Owner to Ride
Canadian National Top Ten Half Arabian Country English Pleasure Adult Amateur to Ride
2019:
Canadian National Champion Half Arabian English Show Hack Adult Amatuer Owner to Ride
Canadian National Champion Half Arabian Country English Pleasure Adult Amatuer Owner to Ride
Canadian National Champion Half Arabian Country English Pleasure Adult Amatuer to RIde
U.S National Champion Half Arabian English Show Hack Adult Amateur Owner to Ride
---
Categories: